A retailer in Romania has already listed the OnePlus Nord and it put a RON 2,300 price tag on it. That's €475 or INR 40,000, though we suspect the euro conversion is more accurate than the rupee one – OnePlus phones in India sell for less than they do in Europe (India and Europe will be the two launch markets for the Nord).
This also works out to $535, which is higher than the promised price of "under $500". But there's no point in getting into details since the store clearly used a render for the phone image – just check out the centered selfie camera, the actual phone has a dual selfie cam in the top left.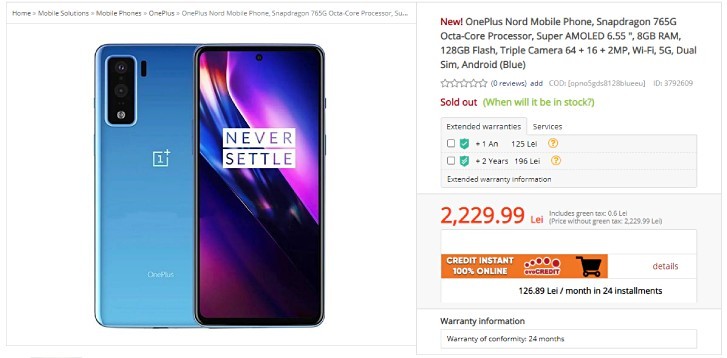 This means that the rest of the specs listed on the site are suspect as well. The OnePlus Nord will be powered by the Snapdragon 765G, that's true. But will it have a Super AMOLED display as evoMag claims?
The 64 + 16 + 2 MP rear camera does sound more or less what the rumors claimed, though we've heard anything from two cameras (as pictured in the render) to four cameras. Same for the 8 GB of RAM and 128 GB storage, also the 4,300 mAh battery. They sounds about right but we can't be sure it's true.
The phone will be officially unveiled on July 21, so we'll have to wait a couple of more weeks before we know for certain.
I'm from romania and let me tell you, unless a phone is not avalabile on a more trusty site, even with a considerable higher cost, there is not a single reason to buy from these guys. Bad warranty
M
Prices in Romania are way higher than they should (an iPhone SE for example is starting at 570 USD instead of 299). So the phone should definitely be under 500 USD.
C
Bear in mind that Romania, like most of Europe, lists prices with all the taxes.
ADVERTISEMENT