When opportunity strikes
OnePlus One review: When opportunity strikes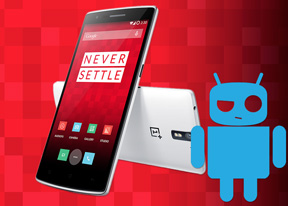 Introduction
From zero to flagship killer in less than 6 months. That's the life story of OnePlus Tech - a big chunk of which went in explanation mode. First it was their relation to Oppo, then the reasons why their debut smartphone got delayed - over and over. Social media hype and an elaborate invite system sent demand soaring through the roof and it's only now that OnePlus finally looks capable of catching up on pre-orders. It's time too for the full review to take off.
If Oppo wasn't clue enough, the OnePlus One isn't exactly trying to hide its resemblance to the Oppo Find 7 pair, particularly the 7a. The One looks like a chip off the not-so-old block with similarities running more than skin-deep. For starters, the displays have the same size and resolution (Find 7a), there's 3GB of RAM, 5MP front cams and 13MP main camera with UHD video.
Aside from the shared DNA with Oppo's Find series, the OnePlus One promises a Nexus feel and performance while beating the Nexus price. If it sounds like we're drunk, you don't know the OnePlus One. It costs just $350/€300 for the 64 gig version and it comes with top notch hardware to match the ample storage. The flipside is it's still quite hard to get.
OnePlus wants you to Never Settle and the One resonates with that - it doesn't skimp on hardware to offer the very best money can buy. The screen is big, bright and high-res, the chipset is top-notch, the camera is capable and even offers cinematic DCI 4k video, the battery and storage sound more than adequate and, to top it off, it comes with pure Android on steroids in the shape of CyanogenMod 11s. The 3GB of RAM will be cheered by heavy multitaskers.
Key features
5.5" 16M-color 1080 x 1920px IPS LCD capacitive touchscreen of 401ppi
Android OS 4.4.2 KitKat CyanogenMod 11s OS
Quad-core 2.5GHz Krait 400 CPU, 3GB of RAM, Adreno 330 GPU; Qualcomm Snapdragon 801 chipset
13MP autofocus camera, dual-LED flash
2160p@30fps video, 2160p(DCI)@24fps, 1080@30fps, slow motion recording at 1080p@60fps and 720p@120fps
Dual speakers (not stereo)
16GB and 64GB storage options
3,100mAh battery
Active noise cancellation with a tri-mi setup
Aggressive pricing
Swappable back panels (including wooden ones)
Main disadvantages
Limited availability, slow to meet pre-orders, invitation-based purchasing
No headphones in the retail package
No 60fps normal speed videos (60fps videos are all slowed down)
No FM Radio
No IR port
Non-expandable storage (no microSD card slot)
The dual speaker setup is mono only
Sold exclusively online
So what are the downsides to an otherwise tempting package? For starters there's no FM Radio. Are we done? No. Okay. The OnePlus One is bulky and heavy to an extent that it can enter a fist fight with the Samsung Galaxy Note 3. There's no such thing as one size fits all but OnePlus has gotten a little carried away - most people like a clear line drawn between phones and phablets.
Another issue is it's so hard to get, so you may have to pay extra to jump the queue. But with a little bit of patience and big hands you might really enjoy the OnePlus One. Opening the retail box of the OnePlus One will put a grin on your face - this device is cheap but doesn't look it, nor do the other box contents. And past the boot screen, a fast, streamlined interface awaits - one that's very close to what you'll find on a Nexus phone.
The screen is big and bright and fills the front from edge to edge pushing the bezels to the brink. And if you're still not sold, one look at the video settings will dispel any doubt - the UHD option is stuff only premium devices get these days.
But before we declare the OnePlus One the bargain of the year it will have more than a few points to prove. The next stop is the hardware checkup where we'll see what the One is made of, look closer at the screen and test the battery backup.
?
That's correct . I faced the same problem and had to get rid of it
?
One plus one 360 cover want
?
My oneplus 1 phone is very good, I have it already 5 years and it's still working perfect