When opportunity strikes
OnePlus One review: When opportunity strikes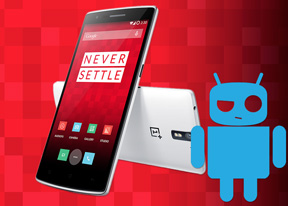 Final words
Devices that excel at everything usually fetch a hefty price but occasionally users will have a tougher riddle to solve. The OnePlus One is a great device with an even better price tag. You probably want it but can't get it. Bummer. This flagship killer's biggest problem is there may not be flagships left to kill by the time it's done handing out the invites.
Yet, the One is your kind of phone if you like surprises - and believe in delaying pleasure. It's the phone for Android purists and modders, running the highly customizable CyanogenMod with over the air updates.
If that's Android how you like it and phablet size isn't a deal-breaker, the One also comes with flagship-grade hardware at the price of a mini, at most. For $350/€300 you get Snapdragon 801, 3GB of RAM, 4K video recording, a FullHD 1080p display and a whopping 64 gigs of storage - that's a respectable list by any standard.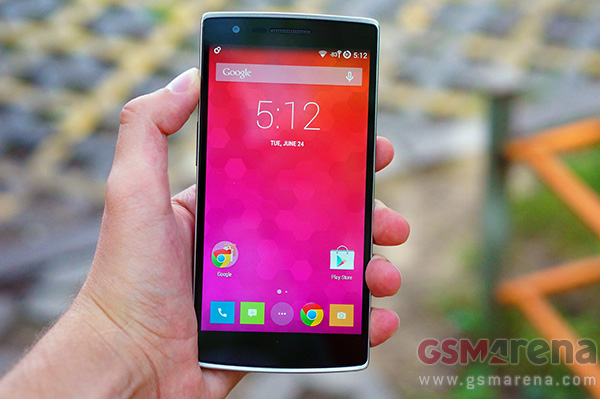 Beyond the mechanical sum of specs, the OnePlus One truly handles well - the UI is buttery smooth, expected from a blend of pure Android and CyanogenMod, the screen is nice and sharp, the battery does well, the camera is excellent, the speakers are extra loud and the hardware costs more than they charge.
Here's a list of our other key test findings for the OnePlus One:
The display is good and quite bright, but the poor blacks cause an only average contrast ratio
Battery life is solid, especially call times
It benchmarks like a champ
The still camera is excellent and resolves plenty of detail
Video recording is second to none, and we don't say that only because of the great DCI 4K footage
Speakers are among the loudest we've tested (despite not being stereo)
Managed to play every video format we threw at it, including those with DTS and AC3 audio tracks
What it all comes down to is availability, which is actually an issue for most phones launching globally from China. OnePlus obviously cannot match the manufacturing capacity of bigger brands. The way they promote the phone is a double-edged sword - with a marketing budget of zero (the only way to sustain that asking price) they have managed to make this one of the most wanted phones. But it's uncertain how many of those queueing up will have the patience.
Then of course, there are the issues surrounding any potential warranty claims that you may have down the road. Without a network of service centers around, you'd have to send the phone back to China if there are any issues down the road. You'd have to factor in that risk and the potential hassle, too.
So let's look at what else you can get, not necessarily for the same amount of cash. Probably the only one that will fit into budget is the 16GB LG-made Nexus 5. It has the slightly less-powerful Snapdragon 800 chip, 2GB of RAM, a 5" 1080p display and stock Android with fast-track updates by Google.
The Nexus 5 will feel just as fast and responsive as the OnePlus One but will let you down in the imaging and battery department. The smaller screen might or not be held to its advantage.
Next up we have the obvious rivals from Oppo. The OnePlus One's stepbrother, the Find 7a, has almost the same display, cameras and chipset. It does have a gig of RAM less and opts for Oppo's ColorOS instead of CyanogenMod. The Find 7 matches the OnePlus One on chipset and RAM, has the same camera setup and overall feel but the display resolution is higher at QHD. Each in that pair is more expensive though.
It's getting way more serious with the LG G3 at near double price. For that you get a 5.5" display of QHD resolution, an OIS-equipped 13MP camera with hybrid auto focus and a feature-rich custom skin.
The Samsung Galaxy S5 is more compact than the OnePlus One, and way more expensive as well. Its screen is smaller but matches the resolution and offers outstanding colors and contrast - that Super AMOLED unit is probably the best screen in the market. The water-resistant S5 has a fingerprint scanner and perhaps the longest list of software features around.
The Sony Xperia Z2 probably comes closest of the current flagships to the OnePlus One's asking price, but still not close enough. It has a 1080p display, but it's smaller, and it is powered by the less powerful Snapdragon 801 variety. The aluminum-and-glass build, water resistance, 3GB of RAM and stereo speakers are its key assets.
The OnePlus One is a package that's really hard to resist - almost stock Android with premium specs at a price that's near impossible to beat. It's not what true believers will call a leap of faith but even some of them are probably thinking it.
Oppo's involvement - or lack thereof (OnePlus at one point denied being owned by Oppo, but there's plenty of evidence leading that way) - will actually help boost the startup's credentials. But still, it's the first phone of a company with no track record. And it's a company that is having trouble meeting pre-orders nonetheless.
A leap of faith it may be, yet so far the One looks like it's worth it. Cyanogen is onboard and that kinda guarantees regular updates, Android L already confirmed. The build is great, the hardware is top-notch, you get solid still imaging and great video, adequate battery backup and CyanogenMod.
By our books, that's good enough for a self-professed flagship killer. At that price though - one can already smell flagship fear. Now or whenever that invite comes through.