OnePlus tweeted out today that their OnePlus One handset will cost under 350 when it is released.
They referenced widespread "interest" from potential European consumers.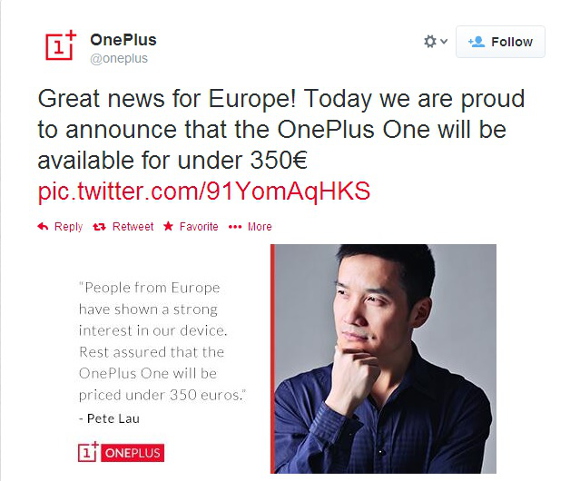 The startup cell phone maker generated a good amount of buzz on the internet. In case you're not familiar with the device, the OnePlus One will feature 3GB RAM, CyanogenMod Android KitKat 4.4 out of the box (a la the Oppo N1), a quad-core Snapdragon CPU, 5.5" 1080p screen, a 13MP camera, a 3100mAh battery, and 16GB or 64GB storage capacities.
The feel good startup story, coupled with the phone's impressive specs and hack-friendliness has made it an internet sensation.
Are you caught up in the hype?
R
SAR Value for OnePlusOne is : SAR Values: - Body 0.62W/kg - Head 0.75W/kg Said in the below forum of OnePlusOne : https://forums.oneplus.net/threads/oneplus-one-what-about-s-a-r-levels.821/
N
Guys I cannot believe you, how in this world a 5.5" screen migth sound small to u. Come on!!!. Please think before you post and dont make your self look irrational or silly.