OnePlus pins the 3T against the Google Pixel XL in another charging test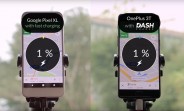 OnePlus released a video today featuring the OnePlus 3T and the companyís proprietary fast-charging solution called Dash Charge. The video pinned the Google Pixel XL against the OnePlus 3T in a charge off. Both devices were set to a destination and they batteries were charged with the Google Maps app navigating for 30 minutes.
The OnePlus 3T was connected to the official OnePlus Dash car Charger while the Google Pixel XL used a Belkin 27W USB-C Car Charger. Given that these phones have different charging temperatures, the OnePlus 3T charges cool while the Pixel usually warms up while charging.
Anyway, OnePlus put out a video on both of these phones in the past, seeing how much they charge in 30 minutes in a controlled environment. You can see that video below.
Why, then, is the Google Pixel XLís result drastically different than the OnePlus 3Tís in the new video? Thatís because the OnePlus 3Tís dash charge converts voltage in the wall adapter to significantly minimize heat-buildup on the phone.
Given that navigating with a smartphone requires more-than-usual amounts of power, the phone is more likely to heat up. Charging the Pixel XL while navigating only adds to heat build-up. This throttles charging speeds in an attempt to regulate temperature.
OnePlusí Dash Charge Car Charger is available directly from OnePlus for $30. But as of this post, the US site is currently out of stock. In any case, the Car Charger comes with an extra USB-A to USB-C cable to charge the OnePlus 3T.
D
I know, right? I see all of these big name android lovers raving about it, and it doesn't make any sense to me. While yeah, pure android and consistent updates are great, you can effectively get the exact same experience for $400/500 less with the 3T...
D
Thanks for the disagreement (though really required?) but good to know the device works for you well. If that means it is flawless for everyone and trumps the flagships, good luck with that!