OnePlus quadruples sales in Europe in Q1, two thirds of the revenue comes from the flagship series
OnePlus is soaring in Europe – the company posted a 388% growth in sales in the first quarter of 2021 compared to last year, revenue from the region increased by 286%.
The OnePlus flagship models, including the new 9-series, accounted for 65% of revenue. The OnePlus 9 Pro was the best-selling smartphone on launch day on Amazon France and Spain. But the mid-range Nord series is proving to be a pivotal part of the company's strategy.
Based on Counterpoint data for the last quarter of 2020, the OnePlus Nord was the highest-selling Android in Finland, which helped the company become the leader in the $250-$400 segment. In Denmark, it was the most popular 5G Android in the same $250-$400 segment (it was in second place once you include 4G Androids). OnePlus managed to edge out Xiaomi and Huawei in both countries.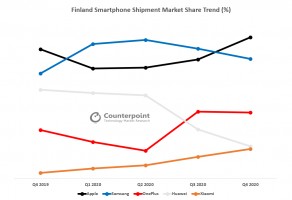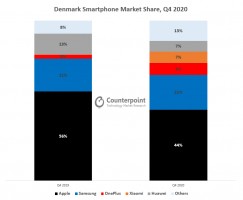 OnePlus overtakes Xiaomi and Huawei in Finland and Denmark (data by Counterpoint Research)
Going back to Q1 2021, North Europe is OnePlus' best region on the Old Continent, it contributed over 30% of the revenue and is followed by West Europe. The Top 3 individual countries were the UK, Germany and Finland. The company is happy with its growth in Central and Eastern Europe as well, with expanding presence in Poland and Romania.
There are now 3 million OnePlus users in Europe, out of 10 million globally. It credits its success to strong sales of 5G devices in the €400-500 segment, partnering up with local retailers and carriers (Amazon, Elisa, Telia, Deutsche Telekom), expanding to new markets and adding new products to its portfolio.
And, of course, its fans. As a way of saying "thank you", the company will offer deals on the OnePlus 8T and the Nord starting on May 3.

?
Oppo finde X3 Pro. quadruples sales in Central Europe in Q2, two thirds of the revenue comes from the flagship series. Record mobile 2021. Second quarter .
A
Worst model gets most success!? Old mother Europe has totally degraded, sorry.
S
I'm waiting for the Android 11 in my OnePlus 7 pro 5G, otherwise it's working great.
ADVERTISEMENTS