We've been hearing a lot about the OnePlus 5. In the past couple of weeks or so, we've seen the phone's specs leak a couple of times, and we saw it listed on one or two online retailers. Although OnePlus confirmed to The Verge of the phone's existance, there's finally concrete evidence.
OnePlus has posted its first teaser for its upcoming flagship device on its Weibo account. The teaser is a photo of the words "HELLO 5" with the OnePlus insignia in the corner. The company's caption is "Hey Summer! Give me five!"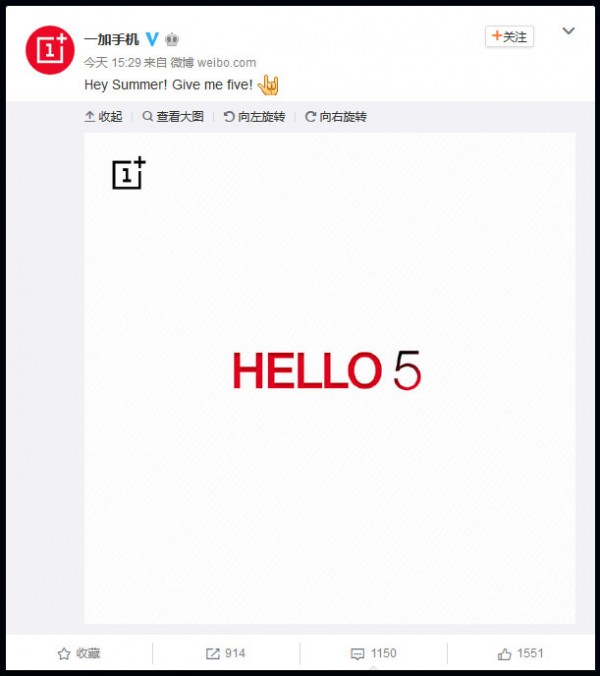 While the teaser doesn't reveal anything about the actual phone except for the confirmation of the "5", it does confirm that OnePlus must be aiming for a summer launch.
As far as the specs are concerned, we're expecting the same 5.5-inch sized display with a resolution bump at QHD. We're also looking for the Qualcomm Snapdragon 835 CPU and either 6GB or 8GB of RAM. Also expected is the first dual-camera setup on a OnePlus device: 2 x 12MP cameras.
Otherwise, a 3,600 mAh battery was also rumored, add to that the rumor about Dash Charge 2.0, the next generation of OnePlus' proprietary charging technology. Just keep in mind these are all rumored specs so far.
n
No thanks...anything LESS than a 4,000mAH battery is too small. I can go 2+ days on one charge with my Huawei Mate8. Less charging, less connecting/disconnecting means less stress on the micro-usb port.
D
Thank You v.much for this info! Much appreciated.
t
One Plus 4, when read in chinese, sounds very similar to saying "a whole family dies". While the "Mi" in the Mi4 can be meant as rice, which is a staple food, ergo, very liked.
ADVERTISEMENTS