Over the last few days, OnePlus CEO Pete Lau has been teasing the company's upcoming smartphone display. The next OnePlus flagship will feature a 120Hz Fluid Display and in an effort to make the higher frame rate more useful for content consumers, Lau has confirmed on Twitter that the OnePlus 8 Pro will enable motion interpolation.
If you've seen high-quality TVs, you're no stranger to MEMC. We've created a custom MEMC chip that can push ordinary 30fps video up to 120, so any video gets the full advantage of our 120Hz Fluid Display. pic.twitter.com/YPD3fw5uOn

— Pete Lau (@PeteLau) January 16, 2020
What this means is that a user can watch a 30fps or 60fps video and a custom-made "MEMC" chip in the 8 Pro will be able to create additional frames to simulate a higher frame rate. This is a common feature among higher-end TVs and one that Hollywood actors have previously frowned upon – by changing the frame rate, you are altering the intended experience of the viewer.
Yesterday, Lau shared a comparison of the 120Hz Fluid Display with a conventional 60Hz screen. Of course, to accurately compare both devices on 60Hz screens, the footage had to be slowed down to 30 fps (25% speed).
The OnePlus 120Hz Fluid Display: The smoothest, most effortless scrolling experience ever on a smartphone. pic.twitter.com/I4FWP64NfO

— Pete Lau (@PeteLau) January 15, 2020
The OnePlus 8 Pro is expected to arrive with a hole-punch selfie camera, a quad-camera setup, all a similar appearance to the OnePlus 7 Pro. Leaked specs reveal a Snapdragon 865 chipset, 12GB of RAM, and run the latest version of Oxygen OS.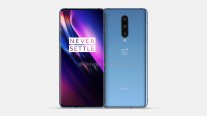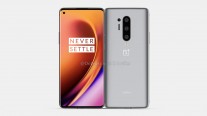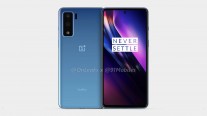 OnePlus 8 (left), OnePlus 8 Pro (center), OnePlus 8 Lite (right)
We still don't have a firm timeframe for the announcement of the OnePlus 8 series, but given the teasers are coming this early in the year, it might be sooner than May.
Via Twitter
Still on a 6incher the difference will be tiny compared to a real cinema or a big 50 inch TV.
T
Movies look horrible at 60fps. The sense of fast pased action is cut from it. Go check video comparisons on youtube
k
60/90 Hz starts to become important as resolutions become higher to support larger screens. 30 Hz is nearly unwatchable on a large 4K screen. On the other hand, fake 60 Hz is trading flickering for unnatural looking motion.
ADVERTISEMENTS