After a year of leaks and teasers, the OnePlus TV is finally here. Available only in India for now, the OnePlus TV is the first time the company has strayed away from making just smartphones and accessories to something very different.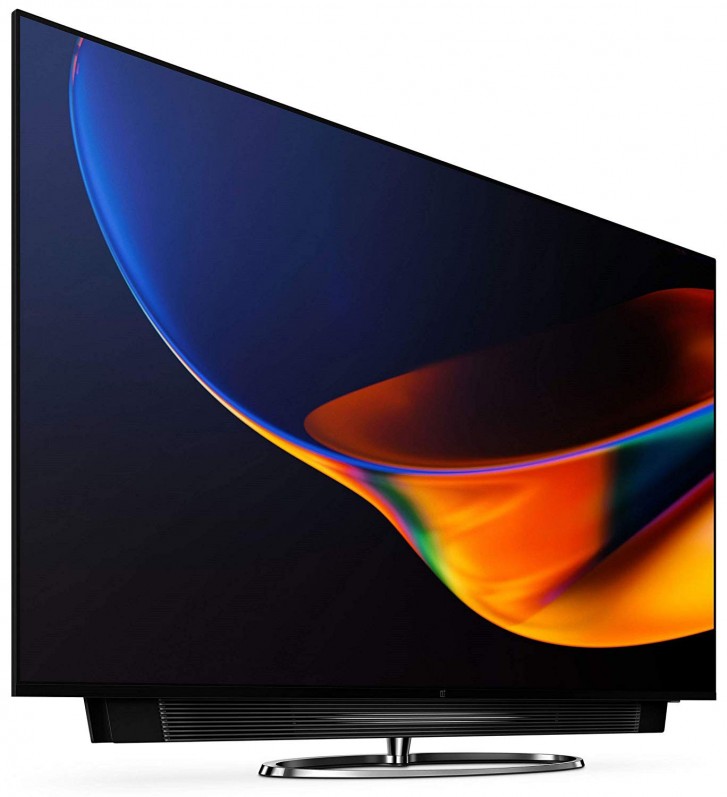 Today we have with us the OnePlus TV 55 Q1 Pro, the more expensive of the two new Q series televisions being launched in India. The Q1 Pro is a 55-inch QLED television that will compete against the mid-range offerings from Samsung, LG and Sony. It has some interesting design features, including a built-in sound bar that slides out, and runs Android TV with a few customizations.
It will be interesting to see if OnePlus will be able to replicate its smartphone success in the TV market. It's not quite the first to the value game so it will have to work a lot harder to stand out. We will just have to see if the new Q1 Pro is good enough to do that.
OnePlus TV 55 Q1 Pro specs
Display: 55-inch, 3840x2160 60Hz VA-type QLED, 120% NTSC coverage, local dimming, Dolby Vision support
Sound: 50W 2.1 motorized sound bar, 8 speakers, Dolby Atmos support
Dimensions: 1223.7 x 207.5 x 795 mm (with stand)
Weight: 24.2kg (with stand)
Chipset: MediaTek MT5887, 1.5GHz 4x ARM Cortex-A53 CPU, Mali-G51 GPU
Memory: 8GB storage, 2.5GB RAM
Remote: Bluetooth, internal rechargeable battery, USB-C
Connectivity: 4x HDMI 2.0 (HDMI2 eARC), 1x composite input, 1x optical out, 3x USB (1x USB-A 3.1, 1x USB-A 2.0, 1x USB-C), RF, Ethernet, Bluetooth 5.0, dual-band Wi-Fi 802.11ac
Software: Android TV (9.0), OxygenPlay launcher, Google Play support, Chromecast built-in, Google Assistant
Accessories: Remote, manual, power cord, AV adapter, USB-C cable, wall-mount bracker, warranty card
Misc: OnePlus Connect app for remote control through smartphone, optional Farfield accessory (coming later)
Design
The Q1 Pro has a stylish and contemporary design. The television itself is very minimal with very thin bezels - barely noticeable in fact. The bottom bezel is a bit thicker and also houses the subtle OnePlus logo in the middle. A single physical button is found under the bottom edge on the right side of the TV, which simply turns the TV on or off.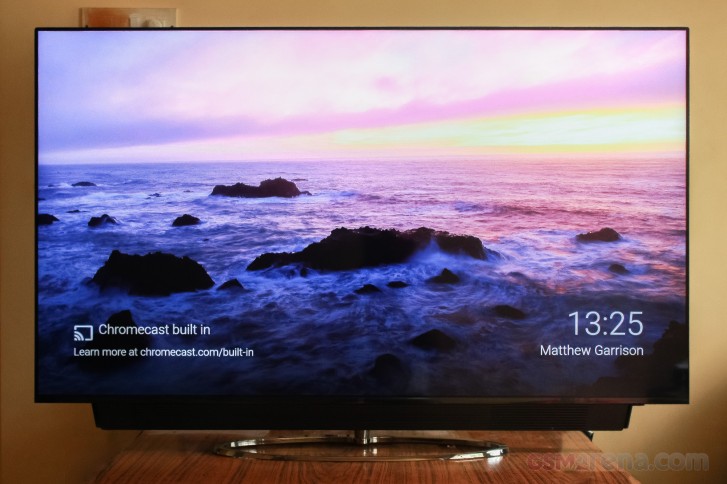 The back of the television has a smooth plastic panel with a carbon fiber pattern. It's very clean, save for the four points to attach the wall mount and the ventilation slot. On the left side (right, from the front) is a removable panel that attaches magnetically and hides all the ports underneath. The panel has a cutout to route the cables but if you have something thicker plugged in, like a Chromecast or a Fire TV Stick, then you cannot close the panel anymore. There are also not many options to route the cables once they exit the panel.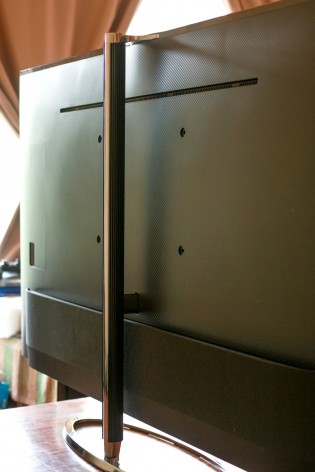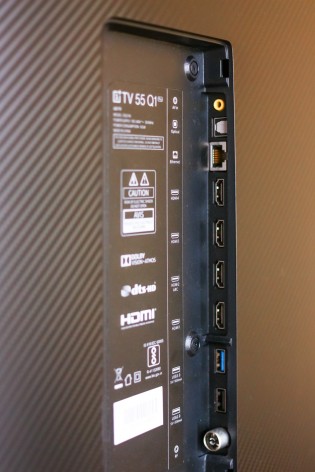 Back of the TV hides the ports under a removable flap
The top of the television also has a USB-C port, hidden under a removable panel that pops out when pressed. Here you can plug in the Farfield accessory that OnePlus will release later and will allow you to issue hands-free voice commands to your TV. There's no date on when this will be available or if it would be coming to all markets.
One of the main features of the Q1 Pro that separates it from the Q1 is the integrated sound bar. The sound bar mechanically slides down every time the TV is switched on and the speakers pop out from the bottom, with the grille lighting up. It's all very theatrical, if a bit slow. The speakers take about 7 seconds to extend fully and about 11 seconds to go all the way back in. Not particularly terrible and you can optionally just keep the speakers extended permanently if you don't want the slide show every time. The mechanism is mostly silent although you can hear it if you're in a very quiet room.
The last bit of hardware that separates the Q1 Pro from the Q1 is the stand. It's not that the two models have different stands - it's that the Q1 doesn't come with a stand at all. You can optionally purchase it from OnePlus, wall-mount it or just lean it against a wall if you're feeling particularly lazy.
The stand that the Q1 Pro includes in its price has a very minimal design. The oval base takes up very little space on your table, which is convenient if your table isn't very wide. It also attaches at two very small points at the top and the center of the back of the TV. It's a very unique design but likely not to be seen by most people.
While aesthetically the Q1 Pro is quite nice, the build quality isn't as good as we'd like it to be. The main panel is built like a tank, with a solid metal frame so heavy it's a pain in the back to move around. However, the stand design isn't confidence-inspiring, particularly due to the weight of the TV.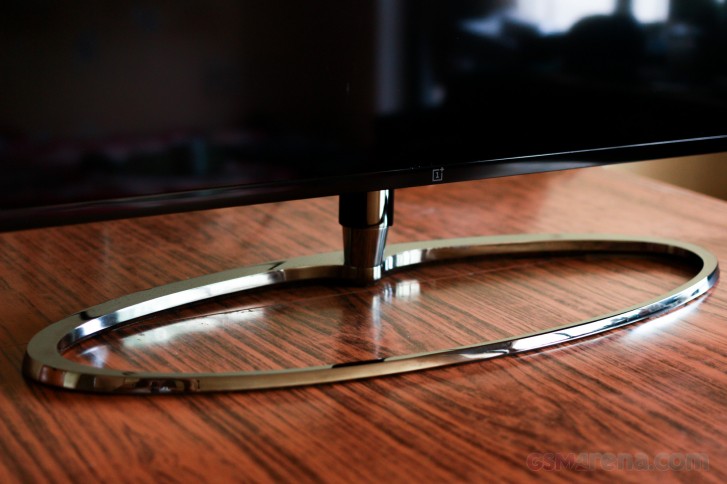 The two centralized mounting points for the stand can't contain all the lateral movements, which causes the TV to wobble quite easily even if you so much as look at it the wrong way. It's especially disconcerting while trying to plug in cables from the side or cleaning the panel and the entire TV is constantly wobbling.
It's possible our fears are unfounded and the stand can easily handle daily use but we could imagine a scenario where the TV came clean off its stand and went crashing to the floor every time we touched it just by the way it moved. It doesn't help that it also creaks a bit when it's wobbling.
The other problematic area was the moving sound bar. We are actually on our second Q1 Pro review unit because the first one managed to get its speaker stuck in the extended position. OnePlus promptly replaced our unit with a working one and they will be taking the first one apart to see what went wrong but it would be an understatement to say our confidence in the reliability of the sound bar was shattered by that experience.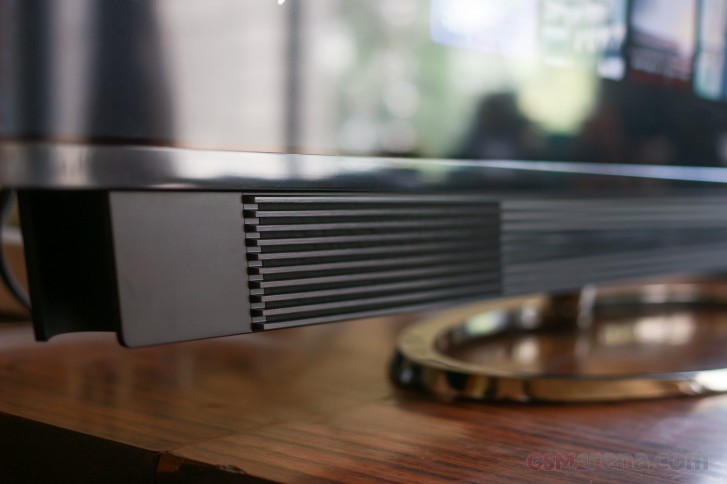 Amusingly enough, the stand and the sound bar are the only two features that separate the Q1 from the Q1 Pro. So basically, you're paying extra just to cause anxiety and possible inconvenience for yourself.
Remote
The Q1 Pro comes with a compact Bluetooth remote control. Yes, it looks almost exactly like the Apple TV remote. We were all thinking it but it needed to be said anyway.
To be honest, it wouldn't have been such a bad thing if OnePlus had taken inspiration from a truly great remote. But the Apple TV remote is truly terrible and hated by most of its users, so borrowing design from something so flawed was a terrible idea to begin with.
It's worse here because a TV has a lot more to do than a media streaming box. The side mounted volume buttons weren't as big of an issue to us as one would think but we hated just how few buttons there were on the front of the device. Most of the buttons had to be pressed and held to access additional functionality, which just slows you down and creates unnecessary friction. The button grouping also causes constantly pressing the wrong button and the large D-pad at the top, while being placed a bit too high, also has dead zones around the corners.
OnePlus does offer a remote app on the Play Store, which can let you control the TV from your phone. At first, this seemed like a great idea, as it had the potential for you to do a lot more. Indeed, the app does let you enter text using the phone's keyboard and also switch apps with an on-screen app switcher. There is also an option to take screenshots from the TV and save it to your phone, which in most cases won't actually capture the contents of the screen but just the menus due to DRM issues. It also does other things like controlling the TV volume through the phone's volume buttons and turning down the TV volume when a call comes in on the phone.
However, in a rather appalling manner, the remote app has no additional buttons over the physical remote, despite the endless space a software-based UI offers. You still have to press and hold buttons in the app and worse of all, there's actually one less button (Home). And like the physical remote, there's no mute button here, either.
The remote has a USB-C port for charging. Neither the remote nor the TV indicates that it is charging when you plug in a cable. You have to dig through the menus to go to the remote options to see the battery level. We are not sure yet how long the battery on this lasts but it barely discharged at all during our testing.
Update (December 09, 2019): OnePlus has redesigned the remote and is now offering it for free as a replacement to existing OnePlus TV owners. More info here.
Software
The Q1 Pro runs on Android TV OS. OnePlus has included its OxygenPlay launcher, apps for popular video streaming services (which cannot be uninstalled) and a skin for the stock Android menus with custom options.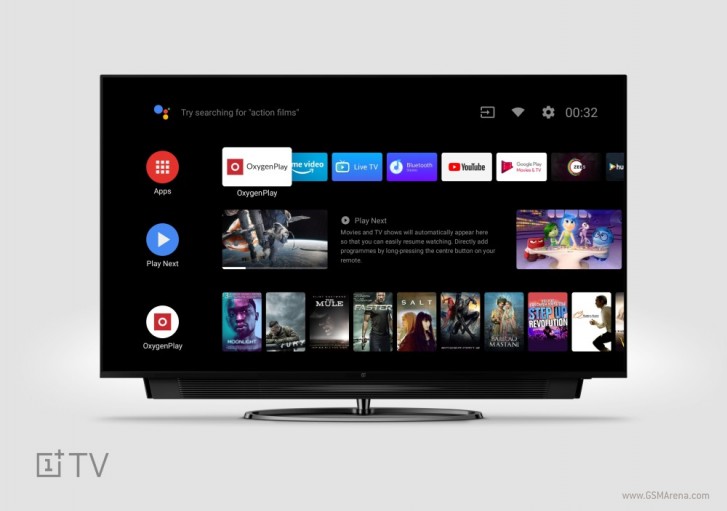 The OxygenPlay launcher is very similar to Patchwall that Xiaomi includes on its television. It aggregates content from various services that OnePlus has partnered with and displays them all on the screen sorted into various categories.
The point of these is usually to present content directly to the user instead of having them open individual apps to check for themselves. But the content is still from different providers and you still have to deal with individual pricing and subscriptions to access them. This sort of defeats the purpose of having a unified interface for all content and would only really make sense if there was a way to make one account to access everything.
For content, OnePlus has partnered with Amazon, Hotstar, ErosNow, Zee5, Hungama and SonyLiv in India, although the list will differ once the OnePlus TV goes on sale in other markets. Since this is an Android TV, there's also YouTube and Google Play Movies available by default. By now you may have noticed the lack of a notable name — Netflix. The OnePlus TV currently offers no way to play Netflix; there's no built-in app, you can't download or sideload it and it cannot be played through the built-in Chromecast. The only way to get Netflix is to connect a media player that has it.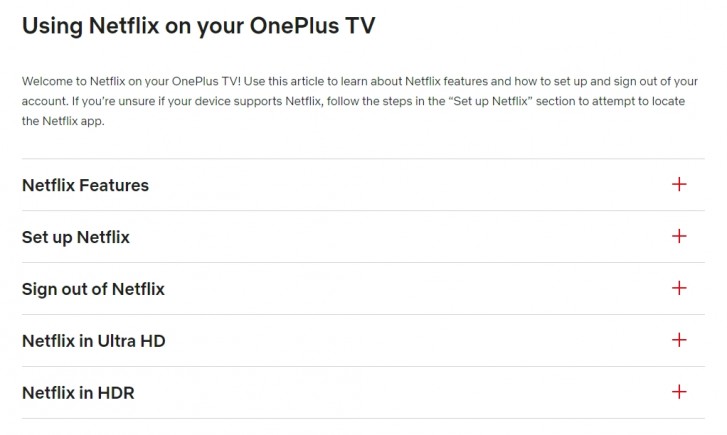 However, OnePlus has announced plans to include Netflix shortly. There's even a support page for the TV on Netflix' website. We don't have an exact date for when this feature is coming but it's likely not too far away.
Another feature missing here but rapidly appearing in rival brands is AirPlay 2 support. At this price, it would have been a great addition and can still be added at a later stage with a software update if OnePlus wishes to. We really hope OnePlus considers adding this feature as it's a really convenient thing to have and just another reason why someone would go for a rival brand over this TV.
The rest of the Android TV interface is quite familiar. You have a homescreen that shows a row of favorited apps at the top, which can be customized. Below is sort of a highlights reel from apps, which shows all the top content from them or whatever you left unfinished. This list can also be customized. In fact, you can pretty much remove everything here.
You have access to the Google Play Store, which only shows apps that work well with Android TV. This mostly includes streaming services and some games, with a few utilities. A lot of the games require a controller, which can be connected over Bluetooth or USB. We tried some of the games but the Q1 Pro simply doesn't have the horsepower to run games smoothly, even basic ones like Crossy Road.
Among its own apps, OnePlus provides a file manager for accessing local as well as files off a USB drive. The TV also has a feature, where you can use the TV as a Bluetooth speaker. If you have a OnePlus phone, the TV shows up directly as a notification to pair, similar to the Bullets Wireless. It's a neat feature to have if you don't have anything better sounding in the room.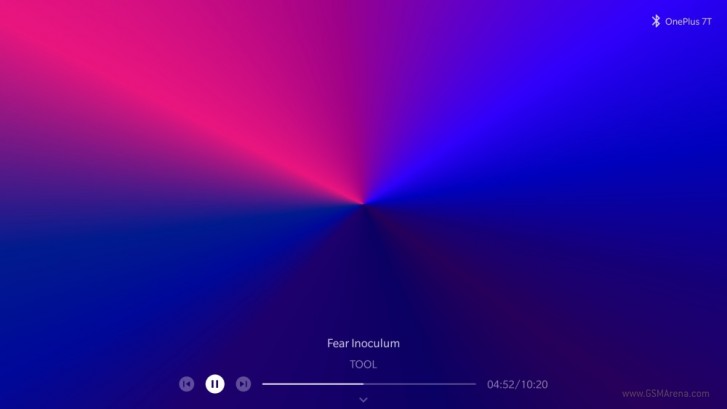 You can also connect Bluetooth speakers and headphones to the TV but that option is buried quite deep in the Settings. The latency is also quite high so we wouldn't recommend using it and suggest pairing directly to the source if it allows.
The Prime Video app gets center stage among all the pre-loaded services, with a dedicated button on the remote. The first thing you learn when you open this app and try to log in is that you can't use the OnePlus Connect phone app to use your phone's keyboard to enter your username and password. We were about to give up on it when we thought of plugging in a computer keyboard through USB and fortunately it worked.
The Chromecast functionality works quite well. The TV just shows up as a Chromecast device in all compatible apps, including Prime Video, and you can just start casting to it with one tap.
The YouTube app on the TV isn't very good. It supports resolutions up to 4K but there's no 60fps support and also no HDR support. We noticed this issue on the YouTube app on the Xiaomi TVs as well so it's just an annoyance that Google needs to wake up and fix. You can use Chromecast to stream the video instead and you'd get 60fps but still no HDR.
The TV has Google Assistant functionality built-in and there's also a dedicated button for it on the remote. You can use it to make general queries, open apps or even control your smart home devices if they are configured but you'd mostly be using it to play content from within apps. You can, for example, ask it to play The Grand Tour from Prime Video and it will bring that up from anywhere in the UI. But perhaps the best use for it is to mute the TV, considering there's no mute function provided otherwise. Unfortunately, you can't use it to bring up any of the TV's settings or change source.
Lastly, OnePlus has applied a coat of paint over the stock Android TV menus. You can also choose the OnePlus Slate font for the TV menus if you want. The menus are all relatively well laid out and there's not a lot of options here anyway for you to get lost or confused, although we would have liked the menus to roll over and not just stop at the end of the list.
The UI performance on the Q1 Pro is quite snappy so it doesn't feel slow or ponderous to go through the menus. The only time it feels a bit sluggish is while playing 4K content from USB drives and there were times when the content itself stuttered for unknown reasons.
Update (December 09, 2019): The OnePlus TV now comes with Netflix app pre-installed along with a new remote. More info here.
Picture quality
The Q1 Pro has a 55-inch, 3840x2160 60Hz panel. It uses VA-type LCD panel with quantum dot technology and edge-lit LED backlighting. OnePlus claims 120% coverage of the NTSC standard, something no one uses today. The television also supports high dynamic range content in HDR10, HDR10+, HLG and Dolby Vision.
Starting with the picture settings, you have a range of picture presets, including a single custom option and game mode. The presence of the custom option is largely unnecessary, as the television allows you to edit all the picture modes to your heart's content.
Within each preset, you can adjust the backlight intensity, contrast, brightness, gamma, sharpness, color saturation, and color tint. Additional, you can also adjust the color temperature using either a simple cool/normal/warm preset, a two point adjustment for each primary color (gain/bias) or an elaborate 10-point color adjustment for each of the primaries. You can also adjust the hue, saturation and brightness for each of the primary and secondary colors.
There also some additional image enhancement options available, including adaptive contrast, local dimming, random noise reduction, MPEG noise reduction, smooth gradation, and motion interpolation. Each of these has four levels, high, medium, low and off.
One option that's sorely missing here is a way to clamp the color gamut to Rec. 709. As of now, the TV has a fully unclamped color gamut, so all colors tend to look oversaturated. The only way to fix this right now is by extensive color calibration.
The settings stay common for SDR and HDR content, including HDR10, HDR10+ and HLG. However, Dolby Vision has slightly different settings; it removes the aforementioned image enhancement options entirely and only has a Dolby Vision Bright/Dark toggle for viewing in bright or dark environments.
For our testing, we chose the Film preset as our baseline as it had the most accurate colors by default and then tweaked it further to achieve our desired level of calibration. All image enhancement options were disabled.
The Q1 Pro has excellent image quality in SDR mode. The display gets plenty bright even in daylight viewing conditions and thanks to the VA-type panel, the contrast too is largely very good. Color performance is great too, thanks to the quantum dot layer. If you don't mind the slight oversaturation, the images have excellent depth and impact while viewing SDR content in most lighting conditions.
The HDR performance is underwhelming. This is mostly due to the display not getting any noticeably brighter in SDR than it does in HDR, which means you are mostly just getting the benefit of the wider color gamut and not the dynamic range, which should still be fine for most users.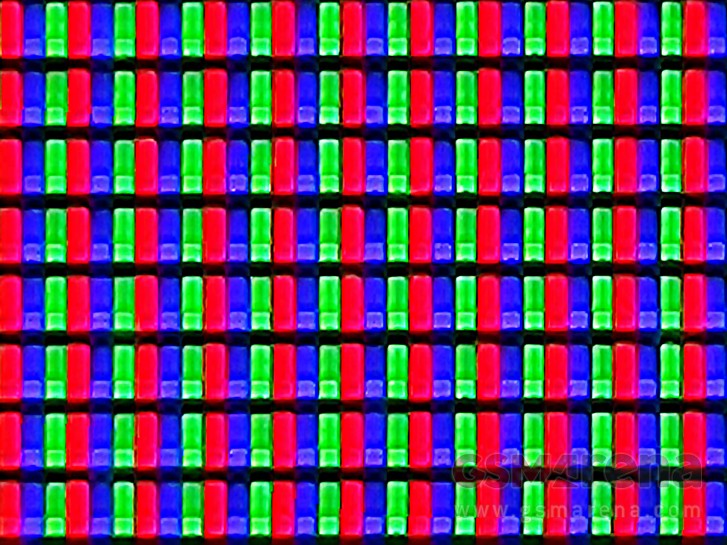 Standard RGB sub-pixel layout
What lets the HDR performance down is the lackluster local dimming solution. Unlike OLED and plasma, LCD panels aren't self-emissive and need a backlight. The problem with traditional edge-lit backlighting is that it lights up all parts of the image equally regardless of the content being display, which affects contrast. Local dimming was designed to solve this issue by dimming different parts of the screen individually and full array backlight dimming took this further by having the backlight behind the pixels themselves in zones to localize the lighting more effectively. The higher the zone count the more refined and focused the lighting.
Unfortunately, the Q1 Pro does not have a full array local dimming solution and instead relies on edge-lit dimming. We counted 16 zones in our tests, which span the entire vertical height of the display. This means whether a bright object is in the top, middle or bottom of the screen, the area above and below it will glow equally bright since the light can only be localized to a vertical column. This produces a lot of blooming around bright objects and is generally not very effective. The low zone count doesn't help, either.
The local dimming also has other issues. We noticed some flickering in some situations and it was hard to say what exactly was causing it. The local dimming also doesn't switch off completely even if you disable it, so you still see some backlight inconsistencies while watching in the dark. Still, we would recommend you keep it switched off as it's least distracting that way.
Another problem with HDR is the Dolby Vision implementation. While the image itself looks no better or worse than HDR10 content, for whatever reason the TV forces motion interpolation on permanently in this mode, with no way to switch it off. This results in a very prominent soap opera effect, which is extremely off-putting while watching film or even TV content shot in 24p. We initially thought this could be a bug but even after a software update the situation didn't change so we had to resign to the fact that this was indeed intentional. To add insult to injury, the TV would forget which picture preset it was in before switching to Dolby Vision mode and when it went back to SDR, it would switch to the default Standard preset rather than the preset that was in use. The end result of all this was that we didn't watch a lot of Dolby Vision content on this TV.
Another issue with the Q1 Pro that affects both SDR and HDR content is the viewing angles. Being a VA panel, the viewing angles are just not as good as IPS or OLED. Moving just a few angles off axis causes the colors to wash out, meaning anyone not sitting directly in front of the television gets a noticeably worse picture.
We also noticed some motion blur. This is also fairly typical of VA panels, which exhibit more motion blur than IPS or OLED displays. On top of that, this being an LCD means it uses the same sample and hold technique, which inherently causes motion blur in fast moving subjects. Unfortunately, the display's frame rate is capped at 60Hz and there are no motion doubling or black frame insertion options available to increase the motion resolution. The motion interpolation feature helps a bit but it's still technically 60Hz and results in unwanted soap opera effect. 24p content also has some telecine judder but there's no option to fix it other than the undesired motion interpolation feature.
The panel also has some inconsistencies. The edges are notably darker than the center but more importantly, we noticed some areas of the screen that had slightly different color temperature. The top edge of our panel had areas that were both cooler and warmer than the rest of the panel. It's not easily noticeable with all content but can be seen when looking at a 100% white screen.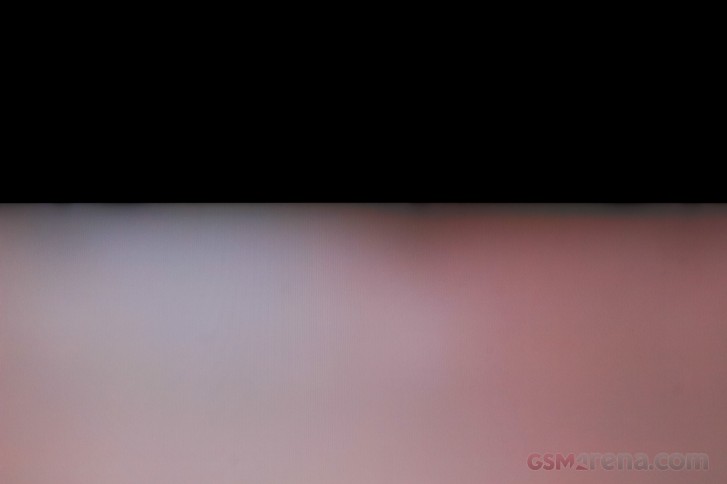 Image edited to exaggerate the issue and make it clearer
Gray uniformity is good and we didn't notice any dirty screen effect. Black uniformity is mediocre and you do see backlight blooming around the edges while watching in the dark, which is typical for a large LCD. We also noticed some bright spots in the center of the screen, which was only noticeable in a completely dark room while looking at a black screen.
The display has a very good anti-reflective coating. While watching during the day in a reasonably bright room, the panel remains largely free of reflections unless a pitch black screen is displayed. At night it's even less of an issue.
The Q1 Pro is also quite good at upscaling. Watching 1080p Blu-rays from standard 10-feet sitting distance was a treat as the content looked nearly as good as native 4K image. Even 720p videos looked reasonably good from a distance. We wouldn't recommend watching non-HD content, however, as it tends to look quite soft, especially at this screen size.
Being an LCD, there is no real risk of image retention or burn-in here as with older OLEDs or plasmas nor did we notice any.
Input latency of the Q1 Pro in game mode is decent. The game mode is just a preset and can be fully calibrated separately if you wish. We didn't fully measure the input latency in this mode but it was significantly better than in other modes. We had no issue playing games with a console due to the inherent latency involved in moving with the analog stick of a controller masking the TV's latency. With a PC and mouse setup, it was noticeable but not game breaking.
Unfortunately, once again the TV is only capped at 60Hz and motion blur is still a bit of an issue. There is also no variable refresh rate support for consoles and graphics cards that support it.
Sound quality
One of the main features of the Q1 Pro is the integrated sound bar that slides out the bottom. The hardware consists of six drivers on the front, of which four are woofers and two are tweeters, and two subwoofers on the back. The speakers are setup in a 2.1 channel configuration. The TV supports Dolby Atmos, Dolby Digital Plus and DTS-HD audio formats.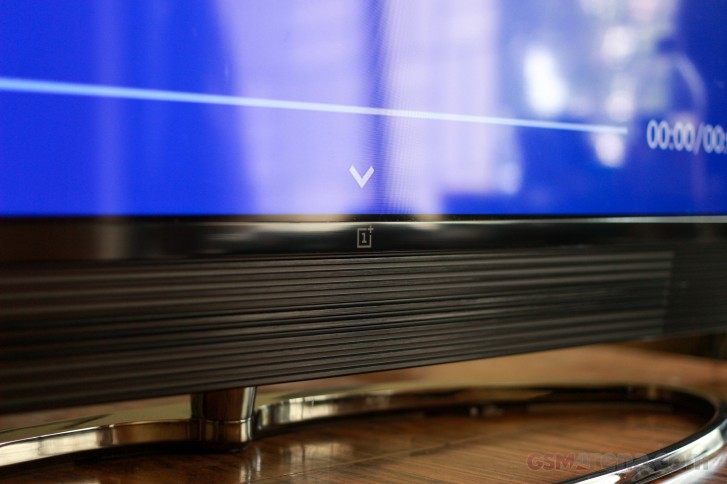 The TV's audio settings come with three presets, one of which emulates a surround effect and there's also a 9-band equalizer if you want to calibrate more accurately. The default Standard preset sounds pretty good in most situations and is the one we left the TV in for the most part but it does tend to be quite sibilant at times.
There's also Dolby Atmos audio processing, which can be switched off if desired. You can also choose to enable a dialogue enhancer or use a volume leveler. There's also an option to set the audio balance, audio delay and SPDIF delay from another menu.
The audio quality from the speaker system is pretty good. The speakers can obviously get pretty loud but aside from that the subwoofers also manage to conjure up a good amount of mid-bass despite the thin enclosure. The vocals are also prominent and sound natural. The speakers by default don't have much stereo separation despite the Dolby Atmos audio processing but the Surround preset does inject a fake surround effect, which is passable.
Overall, the speaker system on the Q1 Pro is a good step up from the speakers found on most televisions. However, we still don't think it's good enough to replace a good sound bar or surround sound setup and that should still be on your upgrade path down the line if you care about sound.
Conclusion
The Q1 Pro is priced at INR 99,900 ($1410), which is definitely on the premium side compared to the standard Q1, which is priced at INR 69,900 ($987).
For that price, you are getting a television with good design, good SDR performance, and good audio. The mobile app is also handy and offers a few more features than what we normally see in these apps.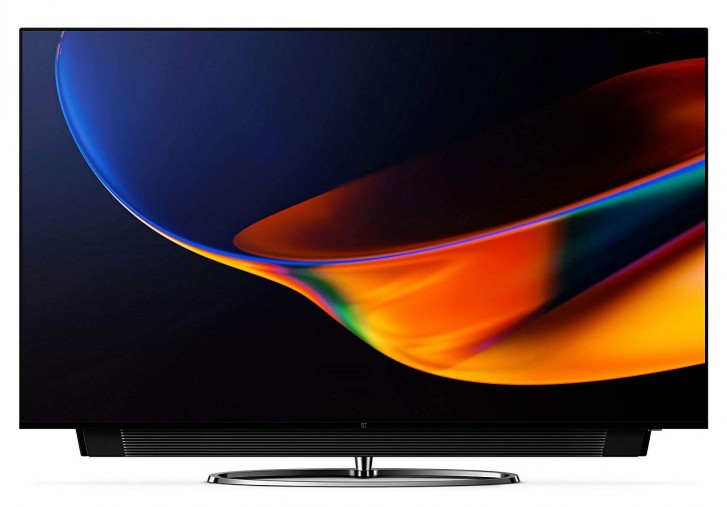 Unfortunately, the build quality is concerning, the HDR performance isn't impressive, the display has mediocre viewing angles and uniformity issues, and the remote is frustrating to use. We also expect some added niceties at this price like 120Hz and AirPlay 2 support, which are missing.
Overall, we think the standard Q1 is much better value and a better option if you want a OnePlus TV. Alternatively, you may want to look at The Frame by Samsung if you are in this price range, or spend a bit extra and get the LG C8 OLED for a bigger upgrade in performance.
Update (December 09, 2019): OnePlus has now completely redesigned the remote and also added the Netflix app (more info here). While these are both positive changes, especially the new remote, we still stand by our original conclusion for this television and think what it really needs is a price correction.
Pros
Attractive design
Great SDR performance
Good audio quality
Handy smartphone control app
Cons
Disconcerting build quality
Poor viewing angles
Panel uniformity and backlighting issues
Mediocre HDR performance
Silly remote design
No Netflix app
No AirPlay 2
High price
Their phones are good so that doesn't exact apply, TVs not so much
b
Using tv for one week .TV is awesome in every aspect . Color reproduction and sound quality is of top notch .
S
People would buy a OnePlus phone over Samsung, iPhone, and pixel because it's a better phone than those three while also being cheaper. I agree that the TV really needs some work though.
ADVERTISEMENTS