Introduction
Not long after Epic Games announced that it will be releasing Fortnite on the Google Play Store, the company forged a partnership with OnePlus, wherein the latest OnePlus 8 series phones were to be the first smartphones to run the incredibly popular battle royale title at 90fps.
Fortnite on mobile ran at only 30fps when it first launched on Android back in 2018. Later in 2019, the game was updated to support 60fps but only on select Samsung devices. That has been the case since, with Samsung having the only Android phones that can run Fortnite in 60fps, with all other Android phones being limited to 30fps.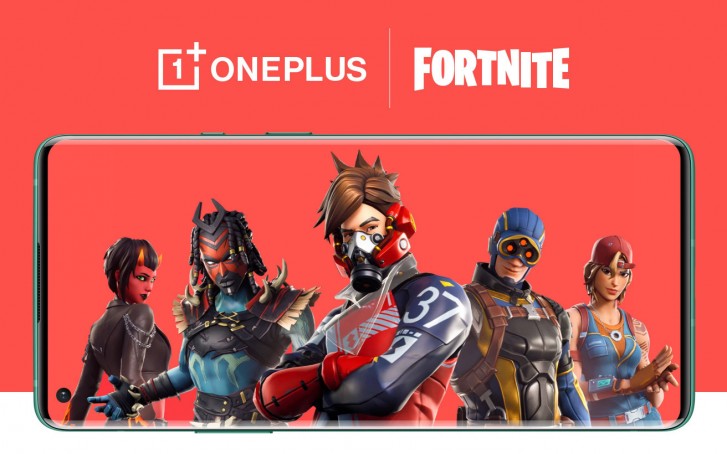 Epic Games now has another partnership, this time with OnePlus, to make the 90fps mode available exclusively on the OnePlus 8 and the OnePlus 8 Pro. This is a huge deal when you consider almost every other Android phone can only run this game at 30fps and how much of an impact frame rate has on gameplay. So we decided to run the game on both these devices and see how it performs.
The first thing that you may notice is that the game caps at 90fps on both devices even though the OnePlus 8 Pro has a 120Hz refresh rate display.
OnePlus has made it easier for its customers to get Fortnite with the latest update on both these phone. The game will automatically show up as a tile inside the Game Space app and from there it's a 7GB download. That's a bit hefty for a mobile game but unlike something like, say, PUBG, Fortnite does have almost all of its assets in this 7GB download, and you don't need to download anything else after this.
Testing
Heading over to the graphics settings, the first thing you'll see at the top is the frame rate option. While most other devices here will show 20fps and 30fps, with some Samsung phones also showing 45fps and 60fps, the OnePlus 8 devices will also show 90fps option along with all the aforementioned ones.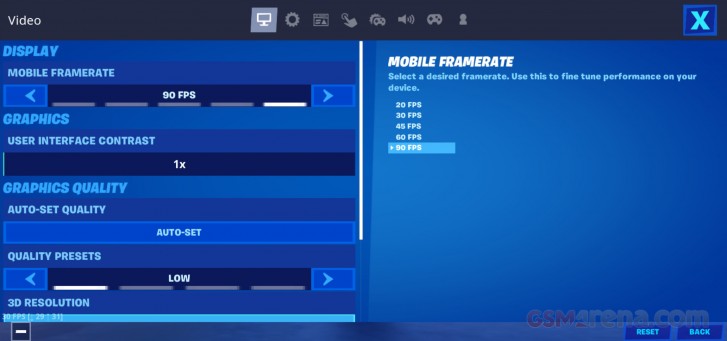 Now here's the important part; selecting the 90fps option will set the quality preset to the lowest setting. This is the only quality setting available at this frame rate. If you increase the quality setting, you will immediately drop down to 60fps. You can have 60fps as your frame rate up to the Epic quality preset but 90fps is locked to Low.
The other relevant option here is the slider called 3D Resolution, which sets the internal rendering resolution of the game. Normally, when this is set to 100%, the game renders internally at the same resolution as the display. Here, it's a bit misleading, as the maximum internal rendering resolution of the game is lower than the display's resolution, so even with 100% scaling, you aren't getting 1080p on the OnePlus 8 or 1440p on the OnePlus 8 Pro. So we recommend keeping this at 100% at all times or things can look rough. We'll take a look at this setting more later.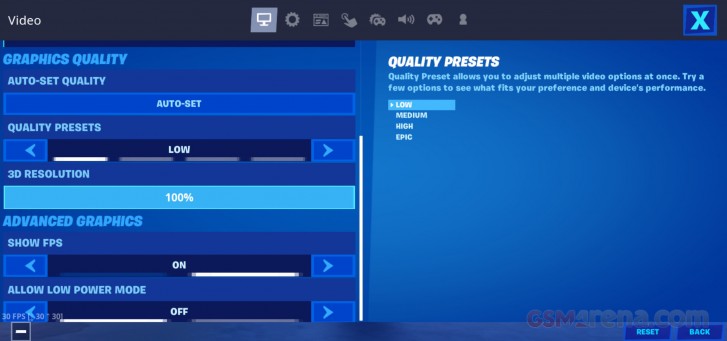 One of the good things about Fortnite is that it has an internal frame rate counter, so it will show you the current frame rate that the game is running at on the top edge of the screen if you enable the option from the settings. We are going to use this tool to illustrate the frame rate going forward in all the following screenshots. The frame rate always appears on the top right edge of the display, except on the main menu of the game, where it's at the bottom left corner.
Let's move on to the actual performance now. The testing was done on both, the OnePlus 8 and the OnePlus 8 Pro, and the observations here apply to both unless specified otherwise. Our devices were set to 90fps with 100% render scale and locked to Low preset. The Fnatic Mode was also engaged on both devices.
First of all, the game's frame rate is locked to 30fps when you're in the opening menu. It also seems to be locked to higher quality and render scale so not much of the options in the Settings menu seem to apply here. So the main menu screen should not be considered in any quality or performance analysis.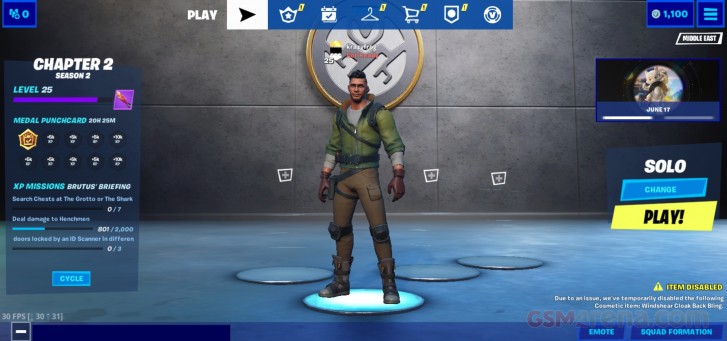 Starting with the actual game, we started a solo match, which led us into the opening lobby that appears before every round start. This area is a great stress test as it has several players milling about in your vicinity at all times. Right off the bat, things weren't off to a great start, as neither device was able to maintain a solid 90fps here. This established one thing very quickly, that the 90fps thing was going to be a best-case scenario, not something you should expect at all times. Still, this is just the lobby, so one could forgive some misgivings here as you aren't playing seriously yet.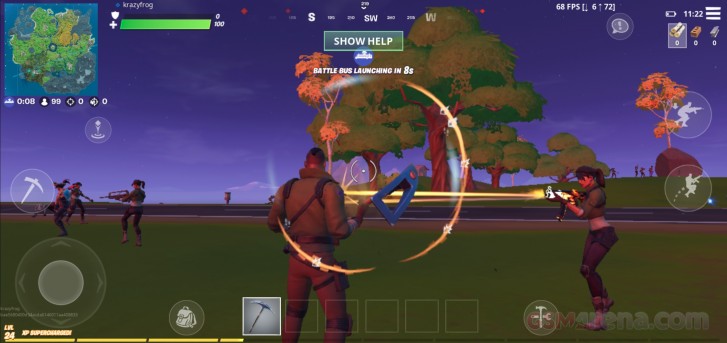 Next comes the drop from the bus (after you've thanked the bus driver, of course) and again, things aren't perfect here. The bit when you are still in the bus is relatively stable at around 90fps but once you drop and the game has to render the geometry and stream in the assets as you get closer to the ground, the frame rate can chug a bit, with frequent drops below 70fps. This is another stress point in the game but still, you aren't yet playing in any significant capacity, so this could still be excused.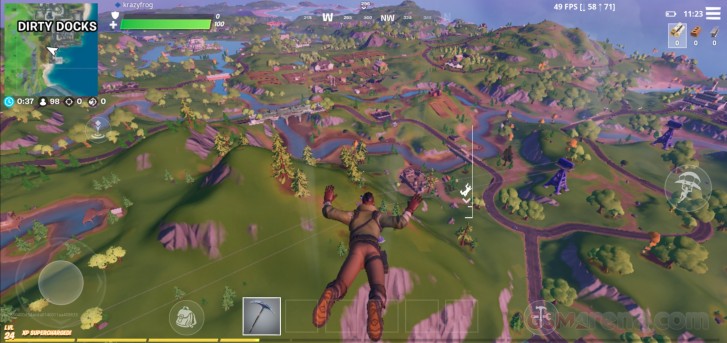 Once on the ground, the phones did a reasonable job of maintaining the frame rate as you run around and collect ammo and other paraphernalia. This depends on how much of the game world is in your view; most of the time, you stick to 90fps but if you were to, say, stand on a high area and look further off into the distance, it can drop your frame rate down into the 70s.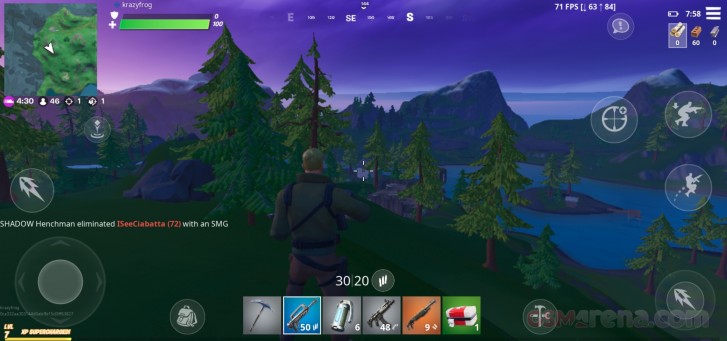 The worst example of this that we encountered is when you use the helicopters scattered around the game world. Using one of these gives you a great view of the map but it also means more items to draw and this is where we saw some of the lowest frame rates. Expect to be somewhere in the 50s and frequent dips to 40s. The lowest we saw was around 30fps in one situation.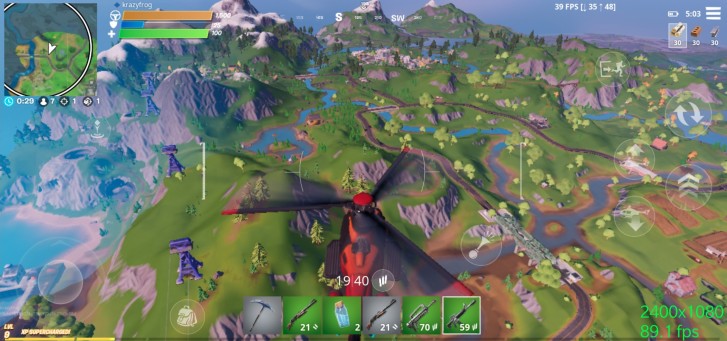 These aren't great numbers but it's worth remembering, high frame rate gaming isn't easy. There's only so much you can achieve by lowering your visual quality settings but eventually you will be bottlenecked more by your CPU than your GPU. While a GPU renders the scene, the CPU still has to deal with draw calls, game logic, physics, and AI among other things in a game, on top of anything else non-game related running on your device. These activities are compounded when the GPU is pushing out more frames, and the CPU starts to struggle to keep up.
We tested this by going back to our old friend, the render scale setting. The setting lets you go all the way back down to 37%, which no one should do ideally as it looks horrible, but it does prove our point when the game is still not hitting 90fps during the helicopter scene. It's highly unlikely at that resolution that you're being held back by the GPU and it's the CPU that's the bottleneck now.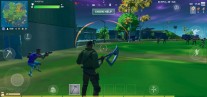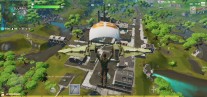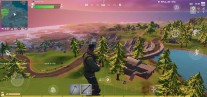 Reducing render scale makes the game look awful but doesn't always improve performance
Another outcome of high frame rate gaming is heating. On smartphones, it's usually the CPU rather than the GPU that is the major source of the heat that is generated. As high frame rate games tend to stress the CPU a lot more than low frame rate games, the heat produced is also significantly higher.
This is one area where our OnePlus 8 and 8 Pro units differentiated themselves. Both devices have their Snapdragon 865 chipsets set up so that they are in contact with the aluminum frame of the device with a thermal compound between them for better heat dissipation. There is no fancy vapor chamber here but rather, the metal chassis itself is the heat sink. As the OnePlus 8 Pro is simply a bigger phone, it has more surface area to dissipate its heat.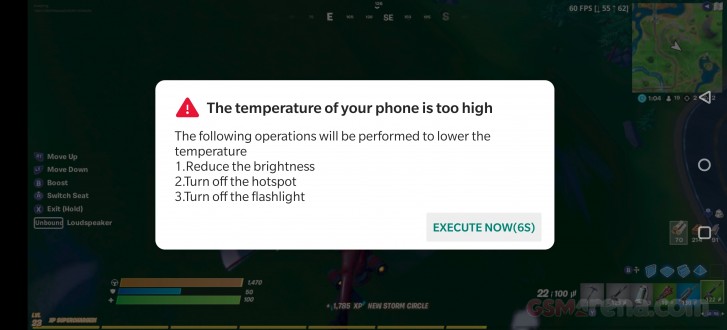 This became very clear when we were playing on both phones. The smaller OnePlus 8 simply becomes unbearable to hold after about five minutes, often even before one round of Fortnite is over. The skin temperature of the device, especially in the top half, is too high to be held comfortably. In comparison, while the OnePlus 8 Pro also got quite warm, it never quite reached the unbearable heights of its smaller sibling.
Oddly, however, while the OnePlus 8 continued to chug along even as it was going thermonuclear, the cooler OnePlus 8 Pro was the one that showed us a temperature warning, which resulted in it turning down the display brightness. It also caused the game to lock itself to 60fps and it stayed that way until it was restarted.
The overheating problem was something we noted even in our coverage of the Fortnite 60fps patch for iOS. Our iPhone XR got similarly hot and that resulted in the device dropping its brightness and the game locking itself to 30fps. On the OnePlus 8 devices, neither dropped frame rate until the overheating warning showed up on the 8 Pro.
We also don't think the heating was a cause for the performance drop. A bit of thermal throttling is expected but we ran the phones while being artificially cooled to lower their temperature and they were still dropping frames in the aforementioned areas.
Going back to the render scale again, we tried playing with the scale set to the lowest 37% value. As expected, this also resulted in the phones heating up as even though the GPU wasn't being taxed as much, the CPU was still being burdened with having to process each frame 90 times a second.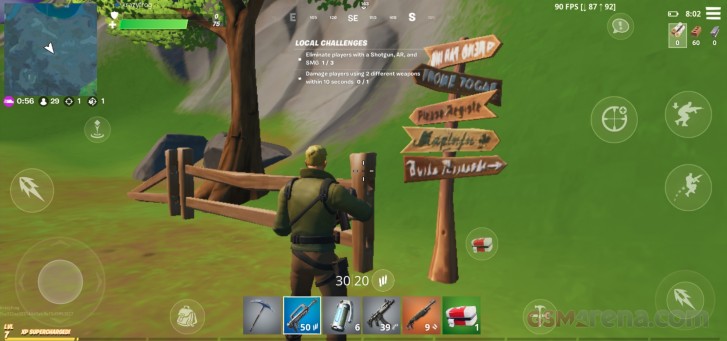 But is all of this worth it in the end? Unfortunately, the answer wasn't as clear as we thought it would be.
Here's the thing; when it's running at a stable 90fps, the game does feel noticeably smoother than 60fps gameplay. However, high refresh rate gameplay is more about just appearing smooth; it's about having lower response times, reduced latency, and clearer motion. While some of these things are true, you likely won't benefit much from it when you're straddled with touchscreen controls. We even tried playing several rounds with an Xbox controller plugged in and while it was fun, it's even less impactful with a controller as analog sticks can only move so quickly.
Essentially, the advantages of a 90fps frame rate over 60fps aren't as evident in mobile gaming as they are on a PC with a mouse. It's unlikely that the refresh rate was the factor holding you back in these games, over something like the controls or simply just how small the screen is. When we switched back to 60fps just to play at better visual quality settings, we had just as much fun and the game looked a lot better. The game almost looks bad at its lowest quality setting due to the low-quality textures, lack of dynamic shadows, no ambient occlusion, ridiculously close draw distance, reduced water and fog effects, and a complete lack of anti-aliasing and anisotropic filtering.
The game also runs at a fairly low resolution internally. Doing some rudimentary pixel count, we measured around 480p internal rendering resolution when set the scaling to 100% on the Low preset, and it can look pretty rough on a large 1440p display. The higher settings seem to render at a higher resolution but also have better post-processing to make them look better.
Fortnite also needs to work on other things, such as the intermittent hitching when moving the camera around or traversing the map. High frame rates are good but short and consistent frame times are far more important. It would also be nice if they made their ridiculously tiny menu more finger-friendly. When the game launched on mobile, it looked like they just pasted their desktop UI on a phone screen and two years later, it's still just as bad. Even on the 8 Pro these buttons are hard to press at times.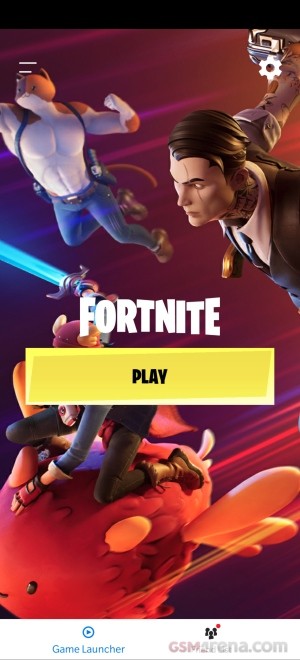 By far the worst thing about the game is the launch time. The dedicated Epic launcher takes about ten seconds to open. Then it's a further 20 seconds before you can launch the game. And by the time the game is usable, a minute and 45 seconds have passed. This is easily the slowest launching game we have tested. There's also no exit option for the game so unless you force close it, it continues to run in the background.
Conclusion
Alright, so what are the key takeaways here? The option to have a high frame rate is a good thing but the current hardware limitations prevent the game from maintaining that frame rate even on these flagship devices. You get about 90fps often but not always and there's still enough hitching happening in the game otherwise. Epic Games could learn a thing or two about optimizing for the mobile platform from Tencent, including how to make the download size smaller.
Second, the cooling on these phones is not sufficient for such demanding games. Both phones scream for a more advanced passive internal cooling solution or even a basic active cooling solution like a fan. The latter isn't elegant but it's necessary if you are to play at these high frame rates and we are sure hardcore gamers wouldn't mind it.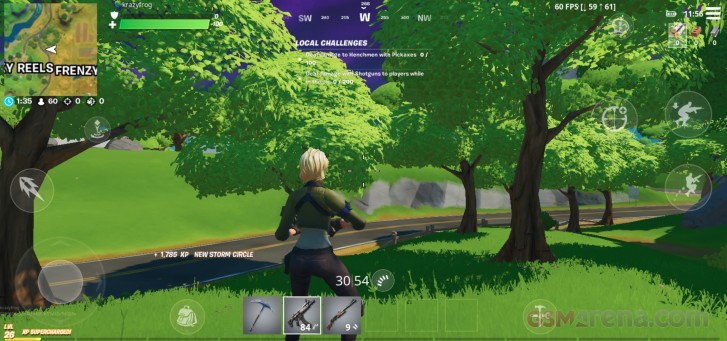 60fps mode with Epic preset looks significantly better while performing just as well
Third, there might not even be any benefit here over 60fps gaming and it comes at a substantial image quality loss. The 30 extra frames won't make you a better gamer overnight and 60fps with High or Epic settings was often a better experience overall. Going from 60fps to 90fps (a 50% increase) doesn't seem as game-changing as going from 30fps to 60fps (a 100% increase). And considering most people are still stuck at 30fps on this title, you are still at a considerable advantage even if you play at 60fps.
Lastly, Epic has a lot more areas to focus, such as performance optimization, UI optimization, and launch times on the mobile platform. These things often make more of a difference than high frame rates.
Overall, while we do like seeing games utilize high refresh rate displays better, there's still some work here that needs to be done by both Epic and OnePlus.
M
My opinion is that, leave phones and portable devices for productivity and work, while actually get a gaming pc or a console to play heavy demanding games. I do not see the reason of playing fortnite on a phone if that will reduce battery life, make ...
(1) Read my reply again and ask yourself if replying to it with "Yeah, apple's gpu's are powerful, why'd you think people do their work on an iPad" makes any sense whatsoever. (2) Anybody with actual work to do will use a laptop. Because iPads ...
Once again, learn to read. I didn't say it stutters at 8 gigs. I said it hardly runs properly with 8 gigs. I said it stutters with 4. How many times do I need to tell you to learn how to read? You're willing to go through the effort of typing a 201 w...
ADVERTISEMENTS