Another day, another contradicting iPhone rumor - when will it end? Well, next September is a pretty safe assumption.
Anyway, in today's batch of supposed specs for the future iPhone we have a 5-inch model that will be fitted with wireless (or rather, inductive) charging capability. Based on 'reliable sources' from Taiwan, Japanese blog Macotacara reports that only this 5-inch model will have a glass back thus enabling the inductive charging.
Just the other day another source claimed that all three models will be able to be charged wirelessly.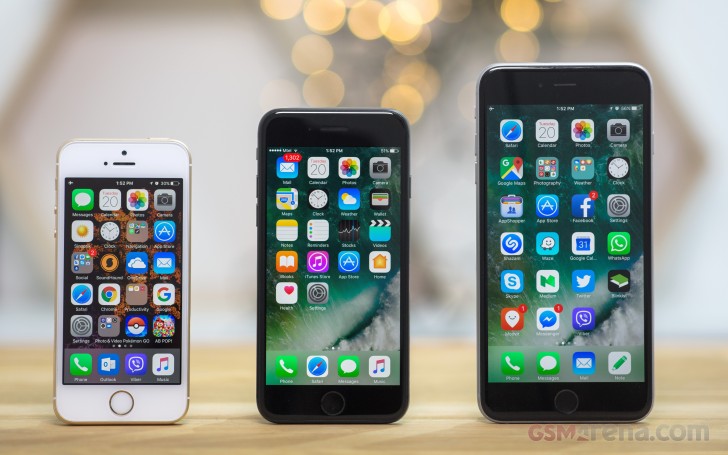 Current iPhone lineup: 4" iPhone SE, 4.7" iPhone 7, 5.5" iPhone 7 Plus
Continuing today's story, the source states that the wireless charger won't be included in the phone's package, but will instead be an optional accessory - nothing out of the norm, really. However, Apple will no longer be bundling the Lightning-to-3.5mm adapter - one generation is enough for the transition to Lightning or Bluetooth headphones, Apple must have figured.
Nothing but speculation here, but it's starting to look that there will be the 4.7" and 5.5" iPhone 8 and 8 Plus (or will it be 7s and 7s Plus) that will continue the path of the current models, while a dedicated (and likely more exclusive, read 'expensive') 5" anniversary model could be in the works with more distinctive features - wireless charging, OLED display, dual camera in a vertical arrangement. Just don't go quoting us on this one.
?
The only thing that will make me buy this phone is if it has more than 326 ppi screen. Aarrrgghhh!!! That is so 2010-ish.
D
With the oleds bought from Samsung and wireless charging on this Iphone 8 (or 7S) Apple could break out of the midrange category it was stuck in for years. They have a minuscule chance, but it's just a dream. Though I absolutely doubt they could ca...
D
I hope manufacturers will stop this discrimination among different size variants of the same flagship. They shouldn't skimp on any features with the smaller variant. The only difference should be screen size and an appropriate battery.
ADVERTISEMENTS