More than 50 million phones around the globe run the Opera Mini web browser and now 50 million iPhones can join the party since the Opera Mini for iPhone has just been approved and is now available for free at Apple's App Store.
By compressing the data by up to 90 percent before sending the content to the device the Opera Mini manages to dramatically increase page loading speed. That, at the same time, results in lower browsing costs.
So, no matter what generation iPhoine you're using and no matter the type of connection, you will find webpages load much faster. As the early tests revealed, the Opera Mini is capable of loading websites up to six times faster than iPhone's own Safari browser.
We couldn't help but download the Opera Mini for iPhone and give it a try. And you know what? It rocks! This app really does what it promises to. It's lightning fast and we're seriously impressed. iPhone as one of the best mobile browsing platforms just got better.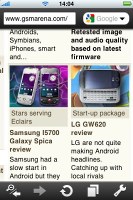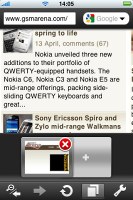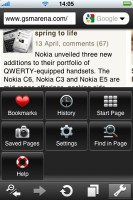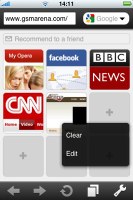 Opera Mini for iPhone in action
With Opera Mini for iPhone you get tabs, several text size and image quality options but no pinch-zoom. While it may look like the pinch-zoom is working, the Mini actually reacts on the two fingers touching the screen. It works both for zooming in and out. Or, of course, you can always stick to the good old double tap.
Opera Mini for iPhone was submitted for approval 20 days 8 hours and 31 minutes ago and now you can get it up and running on your iPhone. Or your iPod touch.
X
ok man. What ever u say. . . Just Peace !
?
Nope Nokia are the worst of the worst, even ZTE are better than Nokia.
?
The N900 does have a resistive screen, it's the X6 which has capacitive.
ADVERTISEMENTS