Opera portfolio is definitely a one-stop-shop for finding a proper mobile web browser whether you're on a smartphone or a feature phone. The Opera Mobile browser has reached the beta stage of version 10 and is now available to Symbian S60 devices - both 3rd and 5th edition, so if you have a Symbian device, be it with a touchscreen or not, you'd want to try out this new version.
It brings the revamped interface, which we saw in the latest Opera Mini 5, complete with tabbed browsing and the speed dial interface. Tabs use a thumbnail of the page and seem very snappy. Check out the official demo video bellow to see them in action, along with the adaptive zoom feature.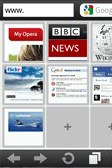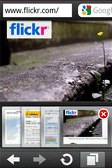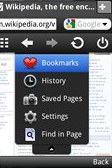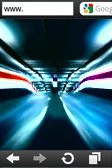 Opera Mobile 10 touts Speed dial, tabbed browsing and intuitive interface
Under the hood there are quite a few changes as well - Opera Mobile 10 uses the latest Presto engine, the same as in the desktop Opera 10 browser, and Opera advertize it as faster than the previous version in panning and zooming, and it should even opens pages 50% faster.
For an even bigger boost the new Opera Turbo feature is included, which reroutes traffic through Opera's servers where content is crunched and compressed up to 70%. This brings down image quality but also data charges and can speed up browsing on a slow connection.
Opera Mobile 10 supports the latest web tech as well, including CSS 3 support (though not yet enabled in the beta version). The improved web standards support is touted to deliver a browsing experience that matches desktop browsing.





A closer look on tabs • address auto-completion • saving entire webpages • password manager
Helpful features like the password manager an address auto-completion plus image and webpage saving on the device are things we're used to in desktop browsers and go a long way to provide the promised desktop-like experience.
So here's the official demo video to check out:
Owners of Nokia and select Samsung and Sony Ericsson S60 smartphones are the first that can try it out. There's no mention of a Windows Mobile version yet but don't despare, Opera Mobile has been running on WinMo devices for quite a while, so one should come up soon.
Head to the Opera web site for more info and screenshots of Opera Mobile 10 beta. You can download your free copy there or you can visit http://m.opera.com/mobile/ on your mobile device.
In case you don't have a smartphone, we suggest you take a look at the free Opera Mini 5 that delivers equally impressive browsing on a wide array of supported feature phones.
j
am not getting adownload how do i
?
Guys, this opera is similar to mini opera, iphone out dated style, no flash and video suport, so there is better alternative..., get BOLT at www.boltbrowser.com
ADVERTISEMENT