Opera's battery saver feature is now out of beta and available to all desktop users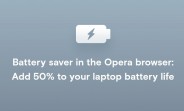 Opera has definitely had its glory days and was once a formidable force on the web browser scene. And even if nowadays its popularity is down to a few loyal fans and few companies have actually contributed as many innovations to the market as Opera has over the years.

One of the latest such software features is simply dubbed Battery saver mode, which after lingering in the beta branches of Opera for some time, it is now officially available to all desktop users. This includes versions of Opera for Windows, OS X and Linux.
The option is implemented in a really straightforward fashion. If Opera detects that you are running on battery, it will show a little icon next to the address bar and prompt you to enable the feature. Once on, the rest of the work is carried out in the background, as Opera will do things like reduce activity in background tabs, pause plug-ins that are not in use and temporarily disable browser theme animations.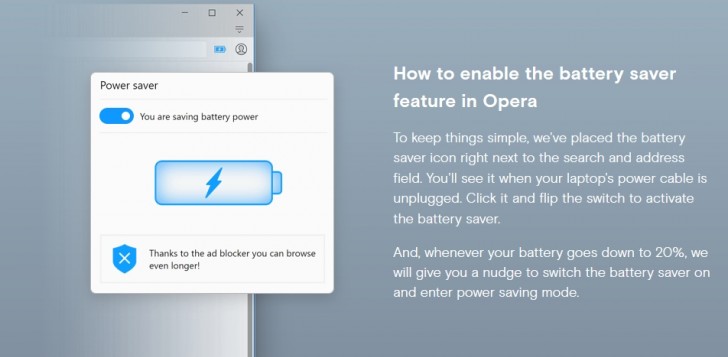 According to Opera's own tests, it managed to squeeze out as much as 50% longer browsing times. Opera's built-in ad block is also a huge help when it comes to minimizing battery consumption from unnecessary flash and the like. If you find the concept of Power saver intriguing, you can hit up the source link and give Opera a quick spin. Who knows, you might just like it enough to make it a daily driver.
?
I've been using Opera ever since I had a computer and internet access, which is over a decade now. It's true that nobody ever made as many innovations for browsers as Opera did - hell, they were the ones to come up with browser tabs, to say the lea...
D
been using opera desktop for almost 4 months now, never wanted to go back to chrome, everything is just perfect