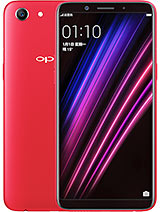 ?
Why is the spec list not complete? GSMarena does not update when this phone is supposed to have been released.
C
Good deal for budget smartphone for 64gb. But hopefully not come with old and slow processor. Since the sd card only up to 128gb. Lols.
n
The screen size is so small. I want a phone that needs a bag to fit in. The current phones somehow fit in the pockets. Bigger is not better.
T
Exactly the same as A83, but with 64 GB instead of 32GB...good deal if the price is less than 150 €.
D
No clarity on processor GSMArena ?
Big screen size and low PPI, No FHD Display, nowadays, WTF.
No USB Type-C Charging, rubbish.
R
WTH is wrong with all of the phone makers? Six inches and larger size to be desirable?! No way. Everything bigger than 5.5" should go to ph/tablet category. The essence of phone usability and portability is officially dead.
Total of 8 user reviews and opinions for Oppo A1.