Oppo R7 has really been a constant presence in the rumor mill, especially the last few days. A lot of users are excited about the prospect of an edge-to-edge, curved screen, but some new official information might leave a lot of them disappointed.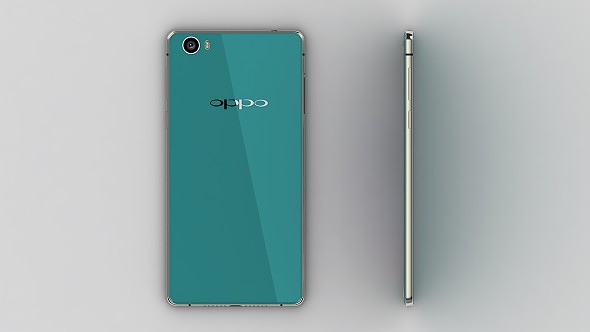 It appears Oppo has decided to stop the rumor madness around the upcoming R7 and has sent us some official information about the device, which debunks most of the previous rumors and speculations. Judging from a set of official renders of the device, we can safely say, that the display is not what we expected. It is also worth noting that the images are concept renders and as such, might not be entirely accurate. Apparently, the R7 won't come with a curved, edge-to-edge display, like a recent Oppo patent and a lot of alleged videos and photos have been suggesting. Don't get disappointed though - the bezelless phone might still be in the making, just under a different name.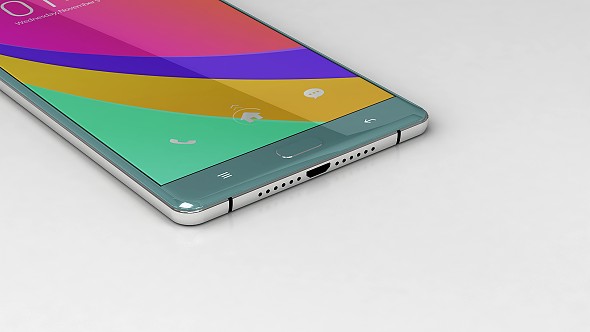 Either way, the Oppo R7 will have a rather traditional-looking display, complete with some bezels. The overlaying glass does feature a 2.5D effect, but no actual edge can be seen. Actually, we did have at least one leak that was close to the actual thing. The Oppo R7, might not be the curved screen phone most were waiting for, but it does still have its merits.
The device does look quite thin, perhaps even another record-holder and beautifully crafted with a metal frame and what appears to be a glass back. It is also worth noting that the camera is not protruding, which is not the case with most similarly slim handsets. This, however might suggest that the camera isn't quite as capable as the ones on the Galaxy S6 or the One M9, but, we canít really know for sure, before Oppo gives us some more insight.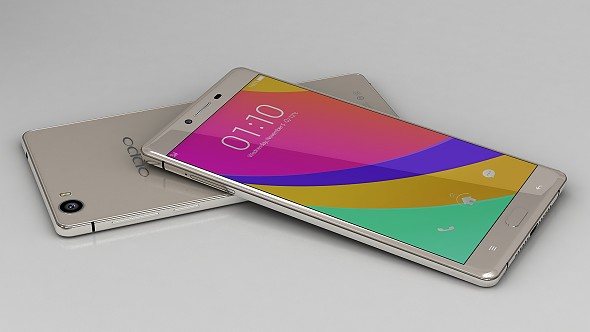 The promotional materials also make another thing clear - the upcoming R7 will feature the company's own VOOC fast-changing technology. This was more than expected, seeing how Oppo has really left the competition in the dust in this department, as confirmed by our Fast charging in-depth review.
As far as specs on the R7 go, we still have only rumors to go by, which, given the current situation, we are a lot more inclined to question as well.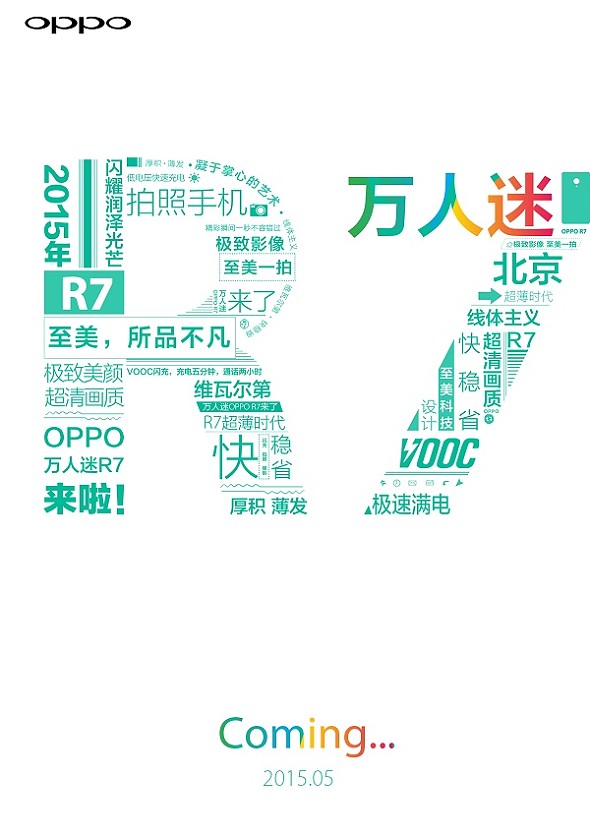 In the past it has been said that the R7 should sport a MediaTek MT6795 SoC with octa-core CPU, as well as a 20.7 MP rear camera. 4G LTE support should be on board as well.
D
That phone is so thin, I could slide it through the crack in my door.
F
Put a Samsung logo on the back and change the camera design to a la Samsung style,it would almost look like a leak photo of Galaxy Alpha successor.
V
if an iPhone and a Samsung phone would have a baby...This is how it would look like