If you have been looking forward to the Oppo Find 5, you will be glad to know that the company has now announced a new 32GB model, which will be priced at $569 (the 16GB is priced at $499).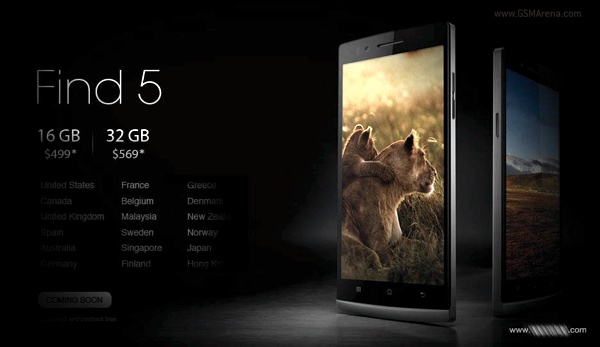 Along with the new higher capacity model, Oppo has also announced several additional countries where the phone will be launched. The full list now includes United States, Canada, United Kingdom, Spain, Australia, Germany, France, Belgium, Malaysia, Sweden, Singapore, Greece, Denmark, New Zealand, Norway, Japan and Hong Kong. More countries will be added to this list in future.
No information on when the phone will go on sale.
y
indonesia coming soon. i heard in april 2013 oppo will come indonesia.
T
I have had an OPPO BluRay dvd player for 4 years and it is first class. At the time, it was the best consumer dvd player on the market. They make high quality products and have great customer service in San Francisco. It appears it will work on T...
ADVERTISEMENTS