Camera
The camera experience is center stage in Oppo's marketing campaign for the F1. The phone features a 13MP main camera with f/2.2 aperture and phase detection autofocus. The camera is practically identical to the shooter used within the R7 family (perhaps even minus the Schneider-Kreuznach optics, but we can't be sure). So, considering the F1 is an overall cheaper offer, nobody is actually trying to pass it off as a spectacular camera phone, but rather a decent shooter within its price bracket. This is actually a statement we can support.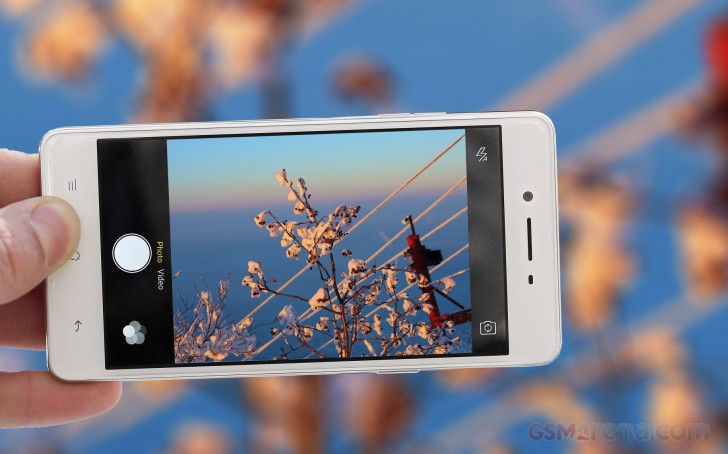 Oppo has definitely put a lot of effort into the camera experience of the F1 and it definitely shows. The camera app looks fairly simplistic on the surface, with a hassle-free default auto interface, but hidden away is a vast array of powerful advanced features.
By default, a quick tap on the settings button reveals quite a few interesting modes, like filters and video GIF's. Outside of effects and little novelties, there is also the slow shutter option that lets you manually control the shutter speed and also the Ultra HD mode that uses a clever stitching mechanism to produce photos with a resolution of 51MP.
But, the real fun starts when you explore the More Functions option within the settings. From there, you can download a few extra camera modes, including Double Exposure, Super Macro and also a pair that really take the camera experience to the next level - RAW shooting mode and Expert Mode. The latter has Manual focus, exposure and white balance controls - all awesome additions.
As for quality, the 13MP sensor is definitely outgunned, but a camera is just as dependent on software, as it is on hardware. Manufacturers like Apple or HTC have proven time and time again that a lot can be achieved even with a rather low resolution cap. The Oppo F1 produced surprisingly good shots during our tests. Mind you, conditions were less than ideal, but we did manage to catch a few glimpses of sunshine. This nicer, but variable weather, however, does pose a bigger challenge to the camera.
Shots have plenty of detail, as well as very nice contrast and sharpness. It is far from perfect, but, for its price, the F1 is definitely a versatile little photo studio, especially if you know enough to get your hands dirty and tweak things in Expert Mode.
Below are three samples, the first done in Normal auto mode, while the second has HDR forced. The third demoes the Ultra HD mode, which, we have to say, does produce some pretty impressive results, although it can't handle challenging lighting quite as good.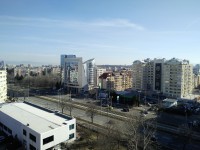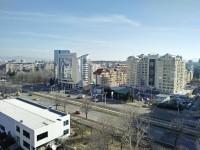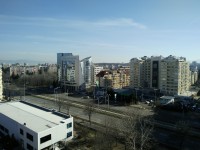 Sample: Normal mode • HDR • Ultra HD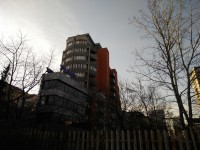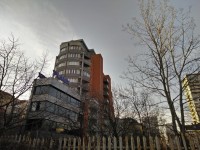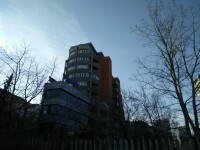 Sample: Normal mode • HDR • Ultra HD
You can take a look at how the Oppo F1 stacks up against the competition in our Photo Compare Tool.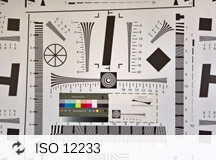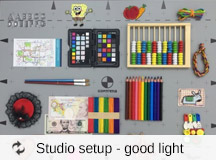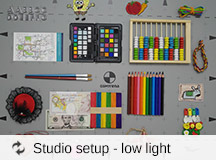 Oppo F1 in our photo compare tool
But, with a slogan like "Selfie Expert", it is clear that Oppo is keen on selling the F1 as a perfect tool for all your self-portrait needs. The front shooter is an 8MP one with a pretty wide aperture of f/2.0 but with a rather small sensor size - Type 1/4".
Nevertheless, as far as selfie cams go, this can definitely be considered as an effort on Oppo's side. A wider field of view would have made the F1 even more impressive in this respect, but, we can't really complain that much on a mid-ranger.
Here are a couple of shots from the front cam as well. They turned out pretty good, but nothing really that spectacular to back the lofty slogan up. Mind you, the second sample is done with Beautify 3.0 turned on to medium, which, despite being in its third iteration is just as over the top as ever. Palm shutter, on the other hand, is a convenient little addition to the mix.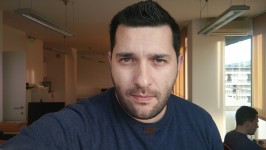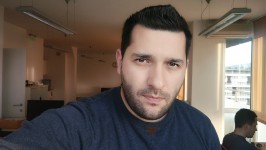 Selfie sample: no filter • beauty filter at medium
Video could benefit from some more detail and sharpness is not stellar either. But, still, the Oppo F1 managed to pump out a steady 30 fps frame rate and results were quite satisfactory. There is also an interesting slo-mo feature on board, but with an output resolution of 720 x 480 pixels, it is more of a proof of concept than anything else.
Finally, you can use our Video Compare Tool to see how the Oppo F1 stacks against the competition when it comes to video capturing.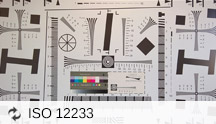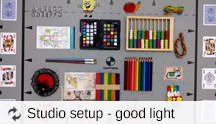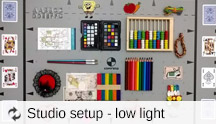 Oppo F1 in our video compare tool: 1080p resolution
Conclusion
The Oppo F1 represents an effort to retain as much of the elegance and high-end feel of devices like the R7 and R7s, while keeping costs down for a better chance on the mid-range market. And indeed, in a lot respects, the Oppo F1 looks to strike the right balance.
Despite a few cutbacks in materials, the Oppo F1 has the characteristic look and feel of its siblings, while also offering an updated mid-range performance, thanks to Qualcomm's new Snapdragon 616 SoC. Overall, the Oppo F1 looks like a perfect candidate for any price conscious buyer who doesn't want to sacrifice aesthetics.
We realize $250 can get you a wide choice of Chinese-made phones. One such device that instantly springs to mind is the Xiaomi Redmi 3. It is available internationally for about $160. What you are getting is pretty close to the Oppo F1 regarding hardware - a 5-inch HD display, a Snapdragon 616, a 13MP camera. There are little sacrifices here and there, but the Redmi 3 has a much better battery life to show for it.
There is also the Xiaomi Mi4i. It costs about as much as the Oppo F1 and has similar hardware. Its 5-inch display, however, is FullHD in resolution.
Another close contender would be the Huawei P8 lite, also frequently praised for its signature and exquisite aesthetics. Specs-wise, it is quite similar. Other viable options, albeit with slightly slower processors, include the Samsung Galaxy A3 (also metal) and the Motorola Moto G (3rd gen). There is also the option to shop for a now dated flagship, like the LG G2, but that's a whole other sea of options we won't get into.
Until recently, Oppo has been striving to stand out by focusing on the premium segment. While this is not necessarily a bad strategy, Oppo phones are slowly finding themselves where Samsung or HTC phone are - their market positions severely undermined by the likes of Xiaomi or Meizu. These companies have been churning out attractive and affordable phones and have been changing the rules of the game for the other manufacturers. So the Oppo F1 is perhaps the first glimpse of a change in strategy, which will see even more competitively priced phones come out of Oppo's factories.