Final words
Whether it's a smartphone you're buying these days or looking for a new car, laptop, even a pair of shoes, there's always an overriding factor: brand recognition.
The reason for most people to choose a new pair of Nike's over a no-name manufacturer is the same one that makes it so hard for brands like Oppo to be a regular part of the conversation when premium phones are involved. It's also the same reason, despite its excellent performance, stellar camera, and beautiful screen, that most buyers will be prejudiced against the Find 7.
The Find 7 has so much going for it - and so few areas where it falls short - that it's hard not to get excited about what the upstart Chinese company has been able to achieve with its latest flagship.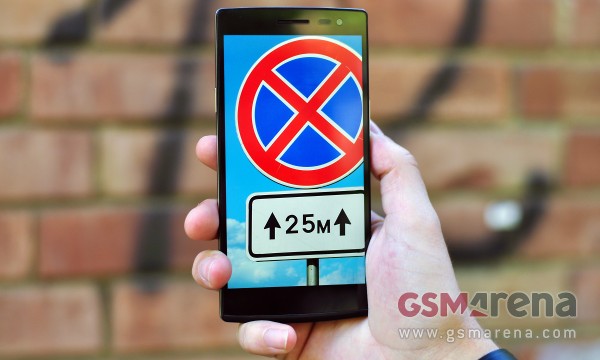 Not only is the Find 7 currently the sole alternative to the LG G3 when it comes to QHD-screened smartphones, but it bests the Korean offering's performance by leaps and bounds. In fact, where the G3 struggled - either due to the QHD display or unfinished software - the Find 7 shined and then some, even beating the likes of the Samsung Galaxy S5 and Sony Xperia Z2 in our composite benchmarks.
We can't get too ahead of ourselves, however, as there is one rather important caveat. With the G3 we saw that having to power a QHD display takes a lot of extra juice, and with the Find 7 things are just as bad, if not worse. Despite bumping up the battery to 3,000mAh over its Find 7a model, the Find 7 scored very poorly in our dedicated battery test, especially when it came to web browsing and videos.
Oppo slightly made up for this by including its hefty 4.5A dedicated charger, which the company claims can charge your battery up to 75% in just 30 minutes. Granted, having to lug around a charger everywhere you go is hardly practical, but the fact that you can top up your battery in just a short pit stop still counts for something.
Here's a list of our other key test findings for the Oppo Find 7:
Build quality is great, but the navigation buttons are uncomfortably dim
The display is very crisp and with ultra-wide viewing angles, and has decent contrast. It's not too great when it comes to sunlight legibility, however.
The battery life is underwhelming, especially poor in video playback and web browsing
The audio output is solid but not as great as direct rivals
The benchmark performance is the best we've tested to date, beating out other name-brand competitors
The still camera is one of the best around, rivaling name-brand competition
The video camera does quite well, and supports 4K video recording @30fps
The speaker loudness is good
Good video codec support out of box
Memory card and the SIM card are not hot-swappable
If you're looking for QHD-toting competition, the list is currently very short. The LG G3 is the only other major smartphone that offers a 1440p display, as well as Android 4.4 KitKat with LG's Optimus UI. You'll also get slightly more mileage out of its 3,000mAh battery, but the QHD display still takes quite a toll when it's on. Despite sporting the same screen diagonal, the G3 is also the more compact device, but the Find 7 is the better performer, even more so if you get the 16GB LG G3 that only has 2GB of RAM.
If having a 1440p screen is not on your list of must-haves, the Oppo's Find 7a is a very reasonable option. It offers 1080p resolution across the same screen diagonal, and features only a slightly underclocked processor and 2GB of RAM that nonetheless provide great performance. You'll find the same Android 4.3 build with ColorOS overlay in the Find 7a, and its 2,800mAh battery provides significantly more time between charges than the Find 7.
Oppo subsidiary breakaway OnePlus offers many of the same features that were introduced with the Find 7a in its new One flagship. Although it does away with the expandable storage, the OnePlus One has the same processor as the Find 7, a larger 3,100mAh battery, and very commendable (admittedly similar) design. Better yet, the One runs on a custom-built CyanogenMod 11S ROM based on Android 4.4.2 KitKat, and records in a high fidelity 2160p DCI mode that has more vertical pixels than regular 4K recording.
The Samsung Galaxy S5 is one of the top-performing flagships in its class, and with competitive pricing in many regions should be a stiff competitor to the Oppo Find 7. Although it can't match it in screen fidelity and performance, the S5 comes with IP67 dust and water resistance, as well as an arguably more robust Android 4.4.2 KitKat build with Samsung's TouchWiz overlay. Also, you'll get significantly more battery life out of its 2,800mAh unit, and there's a bunch of sensors and an IR-port that aren't on the Find 7.
The Xperia Z2 from Sony is impressive offering as well, coming with a capable camera and top-notch performance from its Snapdragon 801 chipset. Although it can't roll with the Find 7 in terms of performance, it's the 7's stiffest competitor in that regard thanks to the 3GB of RAM. You'll also be getting water resistance and Sony's premium design aesthetic, as well as over double the battery life compared to the Find 7.
On the one hand it's easy to recommend the Find 7 - it's a robust flagship with top-of-the-line performance, a stellar display, and a very capable software package. But getting only 5 hours of web browsing per charge is a tough pill to swallow, and could end up being the deciding factor that keeps users away from QHD smartphones this generation. The technology just isn't there yet.
It's also important to remember that Oppo and LG are two manufacturers that played their QHD trump cards early, and international 1440p-toting responses from Samsung and Sony could change things dramatically. For now, the Find 7 has its time in the spotlight - hopefully it won't end up as the best smartphone that nobody bought.