Displays
Here's where we'll be answering the question that's on everyone's mind: which of these QHD displays is the better one? As both match each other in resolved detail, we'll be discussing more in-depth the other aspects that factor in to a capable display: contrast, colors, viewing angles, and sunlight legibility.
There are reports of Find 7 displays with spotty color calibration issues, but we could not detect any such issues with our particular model.
Like we mentioned, both phones offer 5.5-inch displays of 1440 x 2560px resolution, which results in a pixel density of around 534 ppi. LG's screen is of the True HD-IPS+ variety, while the Find 7 panel is marketed as simply IPS. While the LG display certainly sounds better, we won't be going on titles alone and will instead let the numbers speak for themselves.
Here's how each of them look under our digital microscope at 800x magnification: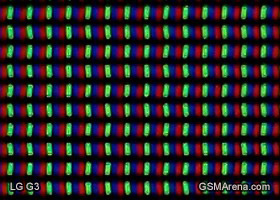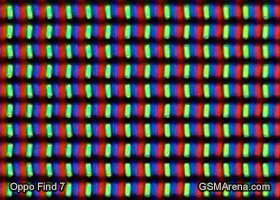 The screen contrast on the Find 7 is very good. It has slightly higher black luminance at 50% brightness, but the contrast ratio is far superior to the numbers provided by the LG G3. The Find 7 is not too far behind the majority of 1080p flagships like the HTC One (M8) and Sony Xperia Z2, while the LG G3 is the poorest we've seen in this generation of flagships.
Display test
50% brightness
100% brightness
Black, cd/m2
White, cd/m2
Contrast ratio
Black, cd/m2
White, cd/m2
Contrast ratio
Oppo Find 7
0.22
248
1135
0.40
448
1123
LG G3
0.14
109
763
0.72
570
789
Sony Xperia Z2
-
-
-
0.41
488
1195
Sony Xperia Z1
-
-
-
0.38
580
1513
Oppo Find 7a
0.33
280
842
0.68
580
852
Samsung Galaxy S5
0
274
∞
0
529
∞
Samsung Galaxy S4
0
201
∞
0
404
∞
HTC One (M8)
0.20
245
1219
0.46
577
1256
LG G2
0.10
149
1522
0.45
667
1495
HTC Butterfly S
0.15
165
1117
0.43
451
1044
Apple iPhone 5
0.13
200
1490
0.48
640
1320
Things are more even when it comes to sunlight legibility, but unfortunately not on a good way. The Oppo Find 7 and LG G3 are among the more reflective screens we've tested recently, scoring significantly behind the other recent flagships. The Find 7 sports a factory-installed screen protector, that when removed should result in better figures.
Winner: Oppo Find 7. Screen fidelity being the same, it really comes down to which of the two displays proves superior in contrast, sunlight legibility, viewing angles and colors. In all of these areas (save for sunlight legibility), the Find 7 clearly trumps the LG G3.
Connectivity
Both phones are powered by Qualcomm chipsets and enjoy all the connectivity benefits that come included. The European variant of the LG G3 beats out the Find 7 in the number of supported LTE bands, though both should have you well covered for whatever region you buy the device in.
Wireless connectivity on the LG G3 is covered by dual-band Wi-Fi 802.11ac, which also supports a/b/g/n as well. Meanwhile, the Find 7 relies simply on b/g/n connectivity. Bluetooth 4.0 is available for connecting accessories, although the G3 has the advantage of supporting LE (low energy) peripherals.
Both phones support USB On-the-go capabilities for their USB 2.0 ports, but that's where the similarities end. The LG G3 has and IR-port for controlling televisions, air conditioners, and more, as well as an FM radio antenna (on the European model only).
Winner: LG G3. Although offering largely the same connectivity suite, the G3's IR-port, FM radio, and WiFi ac-support are enough to give it the edge over the Find 7.