While many phone manufacturers like to keep their cards close to their chest regarding upcoming flagships, Oppo feels it should be doing the opposite. Anyway, the company has released new Find 7 teaser image on its Weibo account detailing that fans should expect multiple versions of the phone.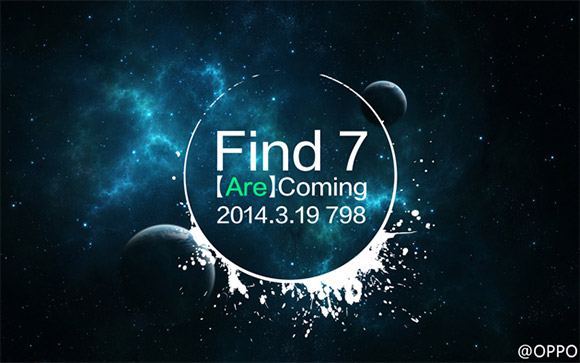 In fact, Oppo plans to release two versions of the 5.5" Find 7 - one with 1080p resolution, and the other with 2K (2,560 x 1,440) resolution. This ties in with yesterday's benchmark of the device, which listed the Find 7 with a 1080p resolution display. Chances are that both versions will be sharing the same 2.3GHz Snapdragon 800 SoC and will run Android 4.3.
The Oppo Find 7 will debut on March 19 at a dedicated event in Beijing.
Source
|
Via
t
Unless they bring out a smaller version of the device, i will be looking elsewhere. 5.5" is just too damn big. I rather have a smaller 5"
?
I used to control my PC remotely using my phone, and the bigger the phones resolution, the more helpful it is for me.
?
Do a screenshot in your phone and you'll notice that the smaller the resolutions the stupid they get.