Organizing skills
The Oppo Find 7a comes with Kingsoft Office preinstalled. It's a pretty powerful office editor that can handle Word docs, PDFs, Spreadsheets and Presentations.
It can link to cloud storage, email files, create a shared view with other users and more. There's editing enabled too so you can get some work done on the go.
The calendar app has three views that you can swipe between. First is the Year view, which aggregates all 12 months with all of their days, a month view, which has little red dots for events and the agenda view, which is a vertically scrollable grid of events. Sadly, year view doesn't show little dots for when there's an event, despite the screen being large and high-res enough to allow it.
Creating an event is pretty straight-forward - you just hit the New event toggle in month and agenda view and start choosing the name, if it's a birthday memo, dates and times, the time zone and you can add reminders.
The clock app supports multiple alarms, each with its own repeat time, ring tone, volume, snooze interval and note. The app also offers a world clock, a stop watch and a timer.
The calculator is pretty simple to use - it has big, thumbable keys. In order to bring up the advanced functions (trigonometry, square root, brackets, etc.) you just have to turn the smartphone sideways.
The Notes app lets you create complex notes with text, images and hand drawn notes. You can even set a password for your notes.
The Tools folder is preloaded with a few apps that you usually get from the market. There's a Flashlight app, a sound recorder and a 3D compass.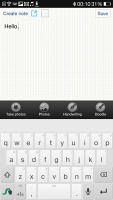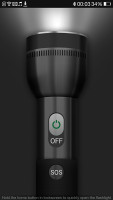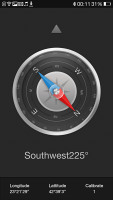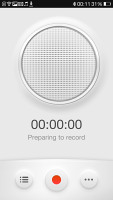 Notes • Flashlight • Compass • Voice recorder
There's also a backup and restore app, which does just what it says ion the tin - it backs up your Oppo Find 7a's data, settings and apps. You can schedule a backup, choose whether to backup multimedia files, etc. You can later restore your backup but you'll need to export it first as the app doesn't auto upload the backup to cloud services (like HTC's or Samsung's does).
The O-Cloud app is another backup&restore app, but it looks like it can only backup your contacts, text messages and can be used to Find your phone remotely. There doesn't seem to be any real cloud storage involved or any interaction with the previously mentioned Backup and Restore app.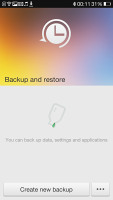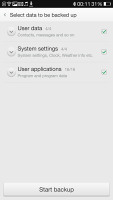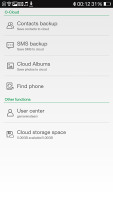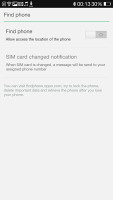 Backup and restore • O-Cloud
The phone comes with a capable file manager out of the box. Its interface is laid out over two tabs, the first one organizes files by category, while the second is a traditional folder browser.
Files and folders can be copied, moved, deleted, renamed and compressed to ZIP (and ZIP files can be extracted). Batch operations are supported. The folder browser has list and grid views and you can change the sorting method. The system can be encrypted and password protected too.
The file browser also has built in DLNA and FTP server support, which makes it easy to access multimedia and general files on another device.
Finally, there is the Permission Monitor app. Here you can check the allotted permissions to all installed apps and even restrict some or all of them - i.e. cut off the ability of an app to send SMS messages. You can search either by app or by permissions.
Google Maps
The Oppo Find 7a comes with a GPS/GLONASS receiver. A-GPS can speed this up quite a bit, but requires Internet access. If rough positioning will do, Cell-ID and Wi-Fi positioning are on it. Wi-Fi positioning can work even if Wi-Fi is disabled or you can turn this off to save battery.
The Find 7a comes with Google Maps and Navigation. Voice-guided navigation has become a viable solution already. The public transport option can be very useful too.
Maps show alternative routes and you can see alerts if there are any potential holdbacks along your route like construction zones, traffic jams and so on. Google's involvement with the live traffic info crowd-sourcing app - Waze - seems to be paying off.
The app also supports the Street View mode, allowing you to see the landmarks you're looking for before you set off. That makes them much easier to find when you arrive.
Google Play
The Google Play Store features several scrollable tabs - categories, featured, top paid, top free, top grossing, top new paid, top new free and trending. Apps usually have several screenshots (some even offer a demo video) so you can get an idea of what the app looks like before installing it.
Google has added a small "designed for phones" warning for apps that don't have tablet interfaces. Those can look bad on the large screen, so it's nice to be forewarned.