Last week (or should we say, last year), Oppo revealed details about its upcoming Find 7 flagship, which is slated to have a 5.5-inch screen of 2K (2560 x 1440 pixels) resolution. Now, several shots of what appear to be the Find 7's front panel have emerged, alongside a Pepsi can and a 100 Yuan note for comparison purposes.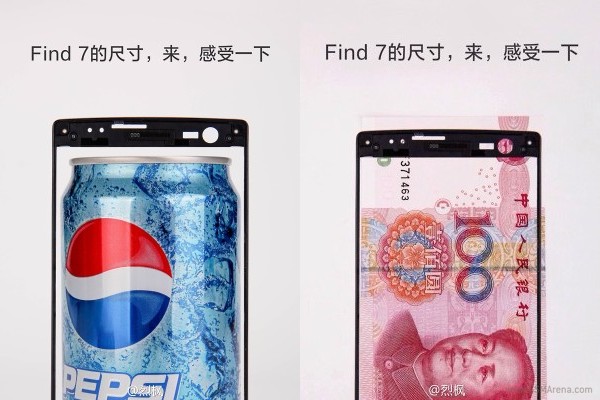 The display appears to be similar to the 5-incher found on the Find 5, but is set to have narrower screen bezels than the former flagship. Up top is room for the usual array of sensors, as well as a large-ish front-facing camera.
Also speculated is the inclusion of a Snapdragon 800 or 805 chipset (with a quad-core Krait CPU), alongside 3GB of RAM.
Truly impressive screen bezels and a top-of-the-line processor could be enough to propel Oppo into the bigtime alongside some of the expected upcoming flagship offerings from the likes of Sony and Samsung.
And yes, we're as confused as you as to why it's called the Find 7.
T
For greatest phone how like and Europe, USA and Balkans market need contain this specs: Display.- 5.5" -- IGZO -- CGG 3 Memory.- 3 GB RAM minimal Chipset.- Snapdragon 805 Camera.- 10 & 2 MP Battery.- 3400mahw
D
Because I am mobile forum administrator and most people want 32 bit of colors! That is reason why ask I am!