As of June Oppo is the leading smartphone brand in China with 23% market share, followed by Huawei with 17.4% and Vivo with 12%. Apple's share in China has shrunk to 2014 levels at 9% share, and Xiaomi is in a tree-year low with 6.8%.
What's even more interesting is the Oppo's growth since June 2014. Back in 2014 Oppo was responsible for less than 2% of the smartphones sold in China. By June 2015 Oppo's share has grown up to 6.1%, and now it's up to a historic high at 22.9%.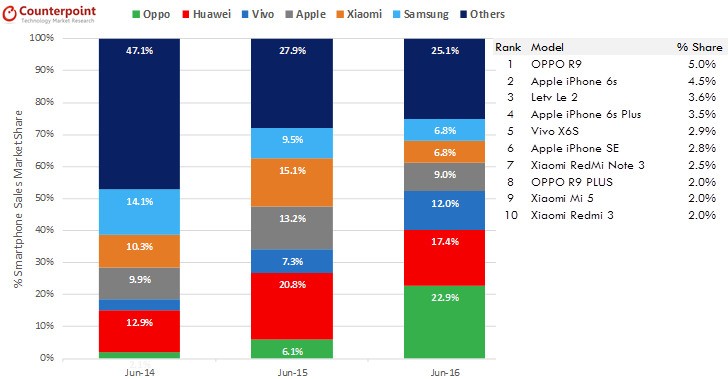 The Oppo R9, sold elsewhere as Oppo F1 Plus, is the best-selling device in June (5% market share). Oppo will be launching the F1s very soon and it expects to expand its market share even more in August.
D
biggest threat to this company is the midranger p9 lite with no otg! dumb idea
D
true hardware + unique software + innovative idea that's oppo & one plus one (same to same)
?
they still believe specs are selling point rather than service and product quality
ADVERTISEMENTS