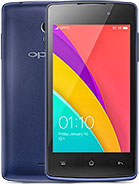 m1
Best phone ever made by Oppo....great using experience
waiting for next...........
N
Oppo please check other company product and prices then that make price for your product WTF
s
with price 100 euro and in 2015 who will buy this ugly phone?
save your buck.
s162
Just bought this today in the PH. Nice build quality and screen. Compare to Asus zenfone 4, this is a tad expensive. In specs both are even. The zenfone 4 tops this on music sound enhancement which is lacking on joy plus. I could say that zenfone 4 is faster by experience. I don't feel any lag on zenfone 4. Joy plus lags occasionally. Camera is as awful with az4. Nice feel in the hand though and quite heavy. Coc run smooth on az4. Don't know yet on this one.Sim card slot one microsim and one for regular Sim.
r224
features are even wore than many other brands out there with the same price range
Total of 109 user reviews and opinions for Oppo Joy Plus.