Oppo has been in the top spots for smartphone sales lately due to one simple reason - the company is issuing a bunch of different smartphones, trying to cater to many different use cases. Apparently, the company is now planning to introduce an extremely affordable phone, since a device with the Snapdragon 625 chipset and Android Oreo OS appeared on Geekbench.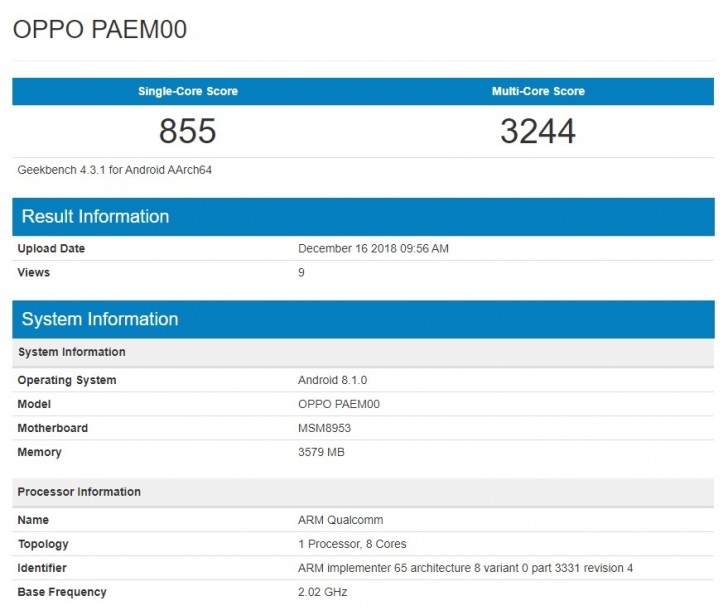 The benchmark reveals a 855 score for a single core and 3244 for multiple cores performance. The numbers are in line with the Oppo R9s with the same SoC that we tested more than two years ago. The processor has eight cores, all of them of the Cortex-A53 variety.
We scavenged our archives and the rest of the internet for any info if this is just an updated Oppo device, but the model number PAEM00 is new, meaning the company really is planning to introduce a handset with a two-year old chipset. The listing also revealed 4 GB RAM, so the company is likely going for quite a budget-conscious device.
x
I think that the KIRIN 659 won't get petition banned so soon as compared to the other two, because like what you've said it is used less
I first thought there were no petitions in the internet. but oh well~ you learn new thing every day~ XD BUT REALLY. one day one of us will go crazy and actually make a petition over it. [I think the main requests for bans will be SD625, EX7870 AND ...
ADVERTISEMENTS