Introduction
Oppo is slowly starting to make a name for itself in the West with its high-end phones, and the company is now more ambitious than ever – today's Oppo N1 promises an impressive camera that takes on the likes of the Xperia Z1 and Lumia 1020. With the N1, Oppo has worked closely with the popular CyanogenMod custom Android ROM team, to make the software side of things highly customizable, and really raise its profile.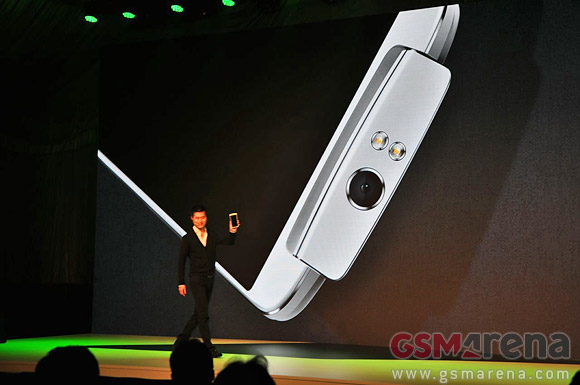 Going back even to the previous generation, the company puts a strong focus on design. "Beauty above everything else," made the Find 5 definitely a looker. The Oppo N1 has a more rounded design than that, with the company calling it "Restricted art." It's also quite a bit bigger; firmly in phablet territory with a 5.9" screen of 1080p resolution.
It will run Oppo's so-called Color OS, which is a heavily skinned Android. The company claims it took 43 patents and plenty of user case studies to get Color OS where it is today.
Oppo is aiming high with the N1 saying the iPhone brought "Touch 1.0," but Oppo is introducing "Touch 2.0" with innovations like O-Touch. It's a touch-sensitive control on the back that enables scrolling gestures, touch to record audio, and so on. An API will become available to game developers.
One of the most impressive features on the Oppo N1 is actually an old one – the camera can be rotated to point towards the front as well as the back. We haven't seen such a design in quite a while. The camera has 13MP resolution, a dual-LED flash and a custom ISP.
This part has proven to be very complex - there are as many as 67 parts in it and Oppo has calculated the gaps so that it can rotate 206° with smooth resistance the whole way through.
Oppo also announced the O-Click remote control – it doesn't submit to the smartwatch craze, instead it uses the remote to snap photos from a distance, it buzzes when you get a new message and will alert you if you get separated from the phone. O-Click is a keychain too and you can use the phone to find your keys – this is the best thing since sliced bread.
D
can we upgrade the android version. If nt its waste as it is running on very old android version that is 4.2
D
do u have any franchise in Afghanistan, or do u have their contact number if yes please replay me to my Mail abdulrazaq.amiri@yahoo.com many thanks Abdul Razaq
D
Can send me contact number thanks