The camera-centric Oppo N1's has been on somewhat of a leak roll these days. Today its aluminum frame is in focus, being held in an anonymous hand and giving us some reference to the device's design.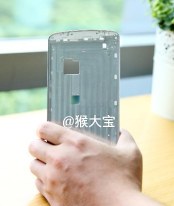 Oppo N1 frame (click to enlarge)
The device will go official on September 23 with a 5.9" display, Oppo's N-lens, a 12 MP sensor as well as a rear touch panel, which will be nicely integrated throughout the phone's UI. There's also been a series of teaser trailers by Oppo, the first of which focused on the camera, the second on the aluminum build and the third on the precision cutting of the body.
We've even seen the thing shot in the wild, not too long ago. All that's missing is a few low-light shots to demonstrate the capabilities of the camera.
?
keep watching, the Chinese manufacturers are going to knock the socks off the other makers. iPhone 5 costs 167 dollars to produce, these guys will charge around that much.
S
All that is missing is Oppo N1 Mini.
?
just the facts mam ,just the facts