User interface
The CyanogenMod Oppo N1 runs version 10.2 of the firmware. It's based on Android 4.3 Jelly Bean, which is a nudge above Android 4.2.2 underlying Oppo's ColorOS. This could be taken as a hint that Cyanogen will always be one step ahead of Oppo when it comes to software updates.
Anyway, Cyanogen is busy making its latest iteration (version 11) available for the Oppo N1. It's based on the latest Android 4.4. KitKat and will come with all the bells and whistles of Google's AOSP project.
AOSP stands for Android Open Source Project and is the core of the Android code that Google makes available to everyone willing to develop and build on. That's what Cyanogen uses and since the company doesn't waste time developing a custom skin on top of it, new versions of CyanogenMod don't take as much time to release.
Take a look at how the custom Android firmware looks and runs on the Oppo N1 in our user interface video demo.
The lockscreen is classic Android 4.3 Jelly Bean. It features the same dotted circle around the center-placed padlock buttons. However, it has been turbocharged by Cyanogen, allowing users to place up to an extra four custom app shortcuts on predefined slots on the circle.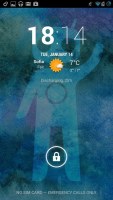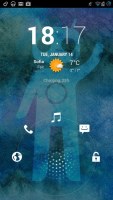 The enhanced CyanogenMod lockscreen
Above the unlock ring, there's a standard lockscreen widget, which in the case of the CyanogenMod Oppo N1 is a customized clock and weather widget. Swiping to the left allows you to add more lockscreen widgets, while a swipe to the right will take you to the camera app.
Widgets are full-screen, resizable tiles, one of which is always visible at the top of the main lockscreen, above the padlock icon. The rest are a left swipe away. The one on the main lockscreen is collapsed to make room for the padlock button, but can be expanded to display additional information.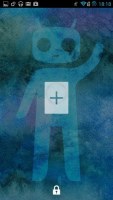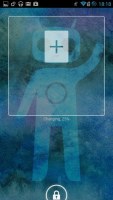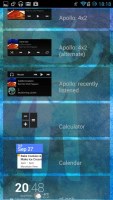 Lockscreen widgets have proven to be useful
There are multiple unlock patterns to choose from: simple slide, pattern, pin or password, and face unlock. The lockscreen could even be skipped altogether. In fact, the Oppo N1 can be unlocked in a number of different ways. You can use the standard Lock button on the right hand side to wake the phone or just double tap on the dormant screen. Another cool option is to draw shapes on the screen while it's turned off and it will jump straight into the app corresponding to the drawn shape. Assuming you don't have a pin code or a lock pattern to stand in the way.
Once unlocked, you're welcomed by the standard Android homescreen interface. However, while stock Android doesn't allow for homescreens to be added or moved around, Cyanogen's Trebuchet launcher enables this functionality and then some.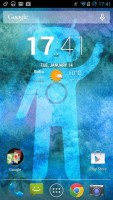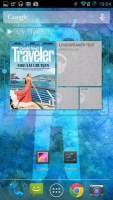 The classic Android homescreen
It retains the stock Android look, but adds a lot more features, easily configurable in the Settings menu. You can change the homescreen transition animations, the grid and size of widgets and icons, etc.
At the bottom of the homescreen, you get the customizable shortcut dock - two shortcut icons on either side of the app drawer key. You can have folders there, each with multiple shortcuts.
The notification center is organized similarly to stock Android running on a Nexus phone. It's split into two parts - notification area and quick toggles. The notification area is accessed with a swipe from the left part of the top of the screen, wihle the quick settings toggles can be pulled down with a swipe from the top right.
The notification area can be configured to include quick settings toggles on top of pending notifications. Other than that it looks business as usual.
Pulling down the quick settings part of the notification area gives you access to key device settings such as brightness, Wi-Fi, Bluetooth and Battery. While they're not technically toggles, but more of a shortcut to their respective settings menu, a tap and hold will toggle Wi-Fi, Bluetooth and 3G on and off.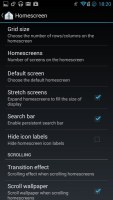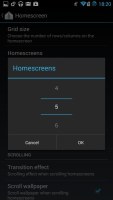 The notification drawer settings
Cyanogen has deeply customized this part of the user interface letting you add quick toggles for anything you can think of. It's all configurable in the Settings menu, which we'll go through in a bit.
You still can add a bit of personalization to the Quick Toggle panel in the notification area. Your name and photo are displayed but only after you've logged in to Google+.
Notifications can be expanded and collapsed with a two-finger swipe, and the top one is expanded by default (if the app that put up the notification supports it, of course).
The app drawer of the CyanogenMod Oppo N1 consists of 5 rows of icons, instead of the usual four. This can be altered if you so desire, as the Trebuchet launcher gives you the option to adjust the app drawer grid, too. The App drawer still features two tabs - Apps and Widgets, each with side-scrollable pages. If you scroll past the available apps you move into the Widgets tab. There's also a Market shortcut next to the tabs, for quicker access to Android's app repository.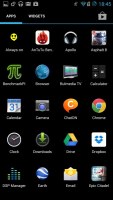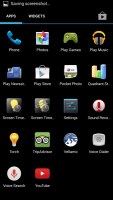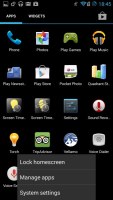 The app drawer is virtually unchanged
Apps and widgets are ordered alphabetically and there's no other sorting option.
Placing a shortcut or widget on the homescreen works as you would expect: press and hold to grab it and then position it on the homescreen pane of choice. Two more options appear at the top of the screen while you're dragging - Uninstall (to quickly remove apps) and App info, which opens the application's entry in the Manage applications list. Drop the app or widget on either one to activate it.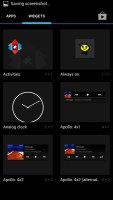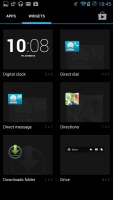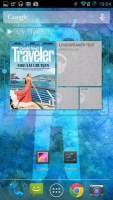 Adding and resizing widgets is easy
The Recent Apps list has remained virtually unchanged, save for some optimizations in load time and a few neat animations here and there.
Privacy Guard is a cool security feature offered exclusively by CyanogenMod. It lets you control what kind of data each app can access. If you think a simple Torch app shouldn't be allowed to read your SMS messages, you can configure it to behave.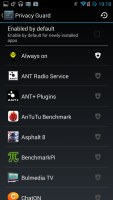 Privacy Guard is a great way to protect your personal information
CyanogenMod also integrates all of the N1′s features that are otherwise present in its custom Color OS. The O-Click and O-Touch function just as you'd expect. All in all, Cyanogen has done a great job at tailoring CyanogenMod to the Oppo N1. On top of that, it offers plenty of customization options that may take weeks to explore, as well as extra features like Profiles.
Though the concept is not new, the depth of customization offered by Cyanogen is hard to match. You can choose between a predefined list of profiles - Home, Work, Night, Silent - and even add your own. Even better, each profile has an impressively rich set of options you can configure. You have a say what aps and services are turned on and off, as you activate one profile or another. Home for example can be set to switch off Bluetooth and GPS, and turn Wi-Fi on. There're groups of apps associated with each profile, whose behavior you can also pre-define.