Connectivity sans LTE
The Oppo N1 comes packed with connectivity options. It has quad-band GSM and penta-band HSPA support. There's dual-band Wi-Fi a/b/g/n/ac, DLNA and Wi-Fi Direct, Bluetooth 4.0, NFC, microUSB 2.0 with USB on the go support.
What the Oppo N1 sadly lacks is LTE. We find it a little strange given its flagship aspirations and Snapdragon 600 chip but not every market has LTE yet, so it may not be a deal breaker for everyone.
One useful app here is the System update app, which can be used to update the phone's software over the air or from a local file (a ZIP saved in the internal memory).
There's a Data monitor app preloaded on the Oppo N1, which reports both Wi-Fi and the carrier network data you're using. The app can set limits and also break down the used data by apps.
O-Click is another cool connectivity option. It connects to the O-Click accessory over Bluetooth. The O-Click accessory can be attached to your keychain or wrist and be used to detect when the Oppo N1 isn't within range, a double-tap on the tiny remote will ring the phone (even if the sound had been turned off) and would alert you of incoming notifications on the Oppo N1.
Google Chrome
The Oppo N1 comes with Google Chrome as its only preinstalled browser. The interface hasn't changed since Chrome's launch for Android and is clean and minimalist.
At the top there's an URL bar with a refresh/stop buttons next to tabs and settings. You can switch between tabs with a wide swipe from either the left or right of the top bar.
Opening the tabs area reveals a list of tabs which can be closed again with a left or right swipe. The animation accompanying this action is neat, too. You can also open up the tabs view by swiping down from the top bar.
Of course, one of Chrome's key assets is the seamless sync with the desktop version. You can start browsing on your PC and finish the item on your mobile phone. Your bookmarks and favorites get synced too.
Google Chrome is generous with the settings as well. You can control almost every aspect of your web browsing from choosing what content you want to allow to load like JavaScript, images, cookies and pop-ups.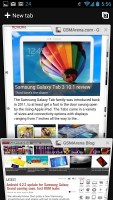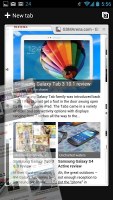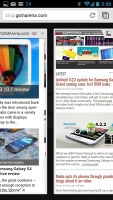 Switching between tabs • An incognito tab
If you are out of Wi-Fi range, you can, for example, choose temporarily not to load images. Digging into Chrome's options, you'll also have the option to turn form auto-fill and storing passwords on or off.