Oppo has just announced its latest smartphone in a special event in Beijing, China. It's called the Oppo N1 and runs the latest version of the company's home-brewed Color OS based on Android 4.2.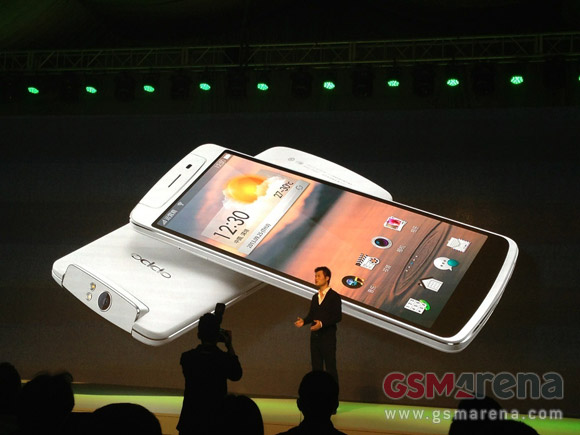 The Oppo N1 is built around a 5.9" IPS display of full HD resolution, which equals out to a pixel density of 377 pixels per inch. The display is super sensitive and allows you to use gloves and even pens, just like the Sony Xperia Z1.
Below the display there are 3 capacitive Android keys - back, home and menu. The whole phone is made of plastic and will be available in two color options - black and white. The Oppo N1 sports either 16GB or 32GB of internal memory, but sadly, there's no microSD card slot.
The Oppo N1 measures 170.7 x 82.6 x 9mm, which is just a bit thicker than the Galaxy Note 3 (8.3mm), and weighs 213 grams. The phone is powered by a 1.7GHz quad-core Snapdragon 600, Adreno 320 GPU and 2GB of RAM.
The back of the Oppo N1 is especially interesting. Firstly, there sits the 13MP camera with CMOS sensor and f/2.0 aperture and Oppo's specially-designed in partnership with Fujitsu IPS imaging chip. Oppo dubs the N1 as the first Android smartphone to feature 6 piece lens design. The whole camera module rotates 206 degrees allowing it to act as a front-facing camera as well.
Oppo says the swivel mechanism of the N1's camera has been put through 100,000 times of rotating in a durability test. This means the Oppo N1's camera can be swivelled 40 times a day for 7 years and it'll be as good as new.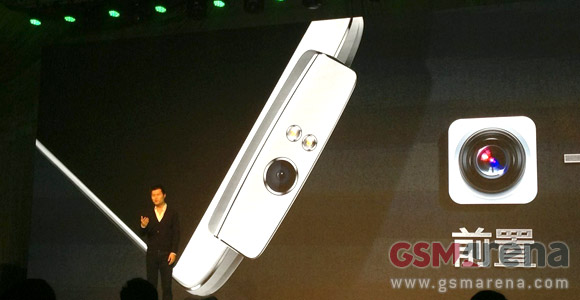 Oppo has also created special plug lens. Not to be confused with Sony's QX100 and QX10 camera modules, Oppo's lens are like usual plug-in lenses that attach to the phone. Oppo boasts it only takes 0.6 seconds for the camera to fire and shoot a photo.
Secondly, the area below the camera is touch sensitive. The feature is called O-Touch and depending on the gesture that you make, the phone is can either play next song, browse the web or do a custom action. For example you can long touch the back of the phone while the camera app is on and it'll take a shot with the front facing camera. The supported gestures are long press, sliding and double tapping.
Oppo has also made a special bluetooth camera accessory dubbed O-Click. It is essentially a remote control for the camera and can operate within 50 meters away from the phone - perfect for self group shots. It's also included in the retail box of the Oppo N1.
Right below the camera there's a dual LED flash, while on top of the phone you'll find a 3.5mm headphone jack. Below the back cover sits a 3610 mAh battery, which is respectable for a phone with such size.
On the connectivity side, the Oppo N1 sports dual-band Wi-Fi 802.11ac, Bluetooth 4.0 and NFC. Oppo has partnered with two of the major NFC payment systems in China to allow paying for transportation as well as other goods just by using the N1.
The Oppo N1 will be priced at $571 (3498 CNY). China Mobile customers can already pre-order the Oppo N1 and expect it to arrive some time October. Oppo is yet to announce exact dates for worldwide availability.
Lastly, at the event Oppo announced their rumored partnership with Cyanogen. While no further details were given, the Oppo N1 is going to be able to run pure Android thanks to CyanogenMod. It's speculated that customers will be able to choose between Color OS and CyanogenMod upon ordering the N1 from the Oppo website.
d
i want to buy this oppo n1 5.9 inch, can you help me where i can buy this phone in philippines..
F
No micro sd card slot - no thank you. Record a video or two. Put a movie onto it, download a game and you are out of space. 64gig card 45MBps writes and 90MBps reads is like 50$. Phone with no slot is jebanym gównem.
m
5.9inches gr8 for gaming n videos
ADVERTISEMENTS