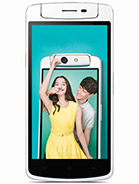 ?
so that in the absence of good processor like Snapdragon 805, the smartphone is in vain, RIP oppo n1 mini
D
a finest, mini handset i have ever seen with great features and quality, 4g tech within affordable price. nice product
D
The no SD card slot is not a major concern especially with the OTG kingston flash memories.
They are everywhere , cheap and compatible with most devices.
D
everything else on its specification is okay except for not having a micro sd card slot... I mean come on OPPO is that bothersome to include on this phone?
D
they are not in the market. .so we shouldn't talk about this foolish phone!!!!
y
mini in 5 inch
price like flagship
performance like entry level
only oppo
g
Kabbi, 05 Jun 20145 inch a mini? WhateverCompare this device side by side with the oppo n1 then you will notice this is mini ;)
D
Kabbi, 05 Jun 20145 inch a mini? WhateverMini means medium, simi small and Limi Large.
Total of 134 user reviews and opinions for Oppo N1 mini.