Oppo will be unveiling its N1 cameraphone on September 23 at a special event in Beijing, China. The Chinese manufacturer has been teasing its upcoming handset with countdown timers, sneak peaks of its camera and its unique rear touch panel features.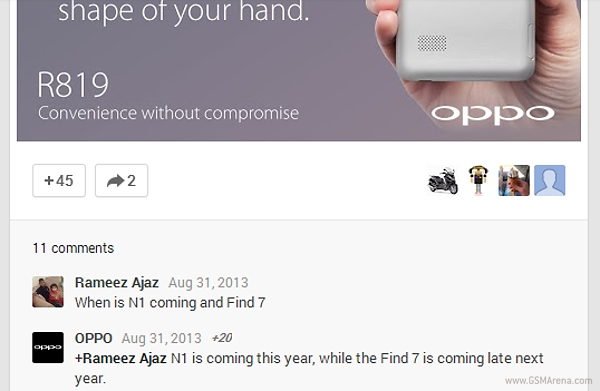 We have also seen the live image of the upcoming Oppo N1 along with the details of its rear panel touch. Now, Oppo has revealed the availability details of the smartphone, through a Google+ post and as expected, the cameraphone will be available later this year.
Oppo has also confirmed that the successor of the Find 5 will be coming in late 2014. However, at the moment, the Find N7 is mostly rumored and there is very little we know about it.
D
Haha,No. Android based ColorOS
A
Chinese phone at higher price like branded phones, no warrenty .only persons that have money for waste can buy these chinese phones at this price range.
a
late next year for find 7 . . i'd have bought a find 5 if it had expandable storage . . but then again the find 7 might not have it either. ughh too bad i dont like the s4.