Oppo is gearing up to announce the R15, a successor to the R11, a device whose hardware design would later be adopted by the OnePlus 5. The phone has been teased with a notch in its display and an entire TV commercial, complete with the unreleased phone's name has also been shared around.
A new leak comes from Weibo where the phone's supposed specs have surfaced. The phone was previously rumored to have MediaTek's newest Helio P60 CPU. This leak coincides with that rumor since it also mentions the Helio P60.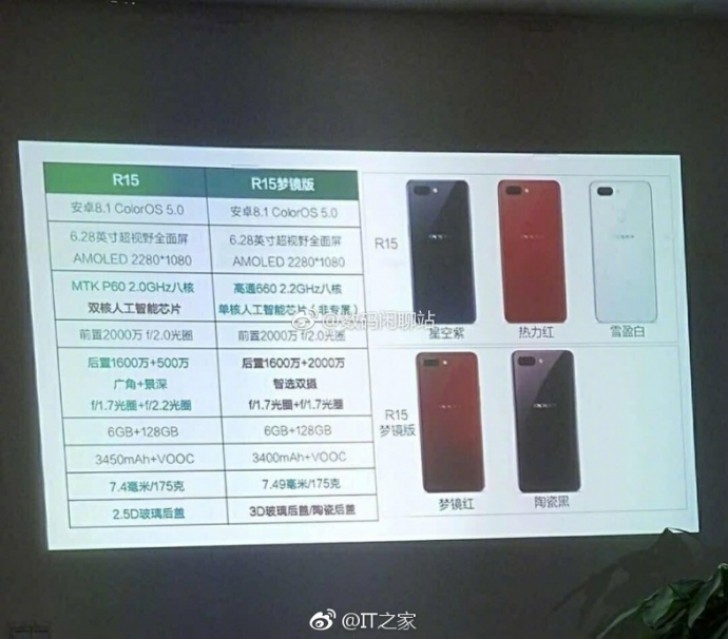 Source: Weibo
According to the leaked image from Weibo, the Oppo R15 and R15 Plus will come with Android Oreo 8.1 out of the box. There's also a 6.28-inch AMOLED display with a 2280 x 1080 px resolution. This doesn't quite work out to 18:9, in fact – not even Samsung's 18.5:9.
This actually calculates to a 19:9 aspect ratio - well, if you include the darn notch. Our guys at the office are really going to have a field day calculating the screen-to-body percentages for all these upcoming notched phones.
There will be 6GB of RAM and 128GB of internal storage. In the camera department, the Oppo R15 and R15 Plus will both have 20MP f/2.0 aperture selfie cameras and a 16MP (f/1.7) + 5MP (f/2.2 for R15 and f/1.7 for R15 Plus) dual camera setup for the main camera.
Processors are actually different on either device. The R15 will have the Helio P60 but the R15 Plus will have a Qualcomm Snapdragon 660. Also, the R15 will have a 3,450 mAh battery while the Plus model will have a 3,400 mAh one. Both phones will support Oppo's VOOC super-fast charging feature.
Finally. It looks like the R15 will be available in Black, Red, and White. Meanwhile, the R15 Plus looks to have different finishes on the back. That red is different from the one on the R15, otherwise, the other R15 Plus color looks to be a dark purplish color.
?
And yeah, because a 5 MP sensor with an f/1.7 aperture was quite an innovation and introduction in the mobile camera tech world we missed in the last x years or so?
?
Or how about missing the leaked detail of the rear camera having 16 MP + 5 MP combo for R15 and 16 MP + 20 MP duo for R15 Plus?
?
Ahh the OnePlus 6 prototype has arrived.