The Oppo R9s is a phone with a striking appearance and an impressive camera. There's more to it than that, but for our first encounter, we decided to focus on its best qualities. The R-series has produced some alluring mid-rangers, but the R9s has its sights set on a more premium position.
Design
The Oppo R9s design unabashedly borrows from the iPhone, but when a company manages to out-Apple Apple, then we take notice. Clear your mind of the similarities in design and focus on the differences.
Both the R9s and iPhone 7 Plus are phones with 5.5" screens, but the Oppo is thinner among the two. It measures 6.6mm thick, 0.7mm less than its opponent. The sub-millimeter difference may not sound like much, but you can see and feel that the R9s is slimmer. It's lighter too, by over 40g.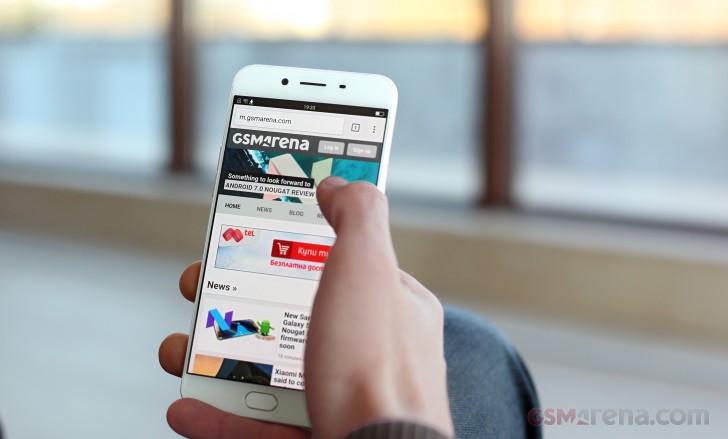 And that's not what impressed us the most - Oppo has to be the first company to hide the antenna lines properly on an all-metal phone.
Enter Oppo with the "six-string" antenna band design. The grooves on the back, two groups of three, are an attractive design element, but they are actually key to the R9s antennas. They provide stable 4G LTE and Wi-Fi signal while being much less of an eye sore than iPhone's antenna lines and don't scratch at your fingers like LG G5's lines.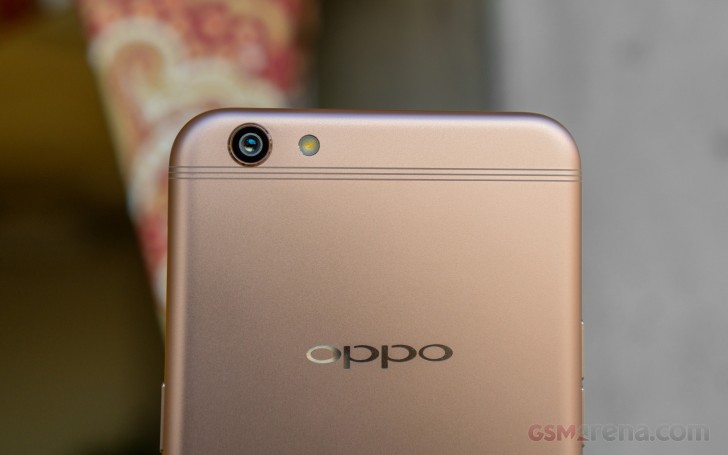 We have the Rose Gold model, there's a regular Gold model too. Both have white fronts, covered in Gorilla Glass 5. We're quite partial to the matte Black model though (with a black front), it looks very stylish.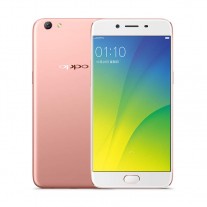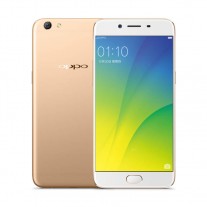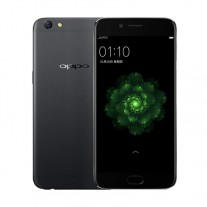 Oppo R9s: Rose Gold (like ours) • Gold • Black
Below the screen is the Home button/fingerprint reader. Like the latest iPhones, it's not a true button but a capacitive one. The fingerprint reader is fast - instantaneous even (officially, it needs 0.2s to trigger, but it feels less).
Here is one thing we liked about the fingerprint reader (besides its speed) and one thing we didn't. You can add multiple fingers and assign a shortcut to each - launch a specific app or call a certain contact. Obviously, you'll want one finger to just unlock the phone. Anyway, for the thing we didn't like - until you set up at least one fingerprint, you can't use the Home key to wake the phone.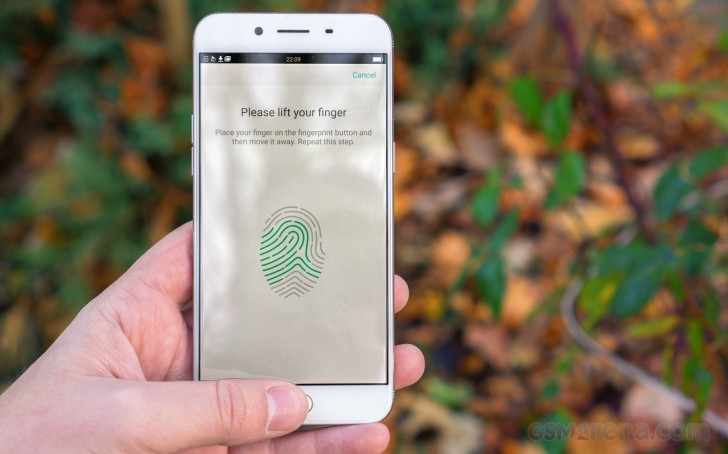 Oppo didn't sacrifice the battery at the altar of thin - the R9s has a 3,010mAh battery, average for a 5.5" phone but excellent for one this thin and light. And the chipset is best known for its power efficiency as it's built on a 14nm process and uses only Cortex-A53 cores (obviously, it's not known for flagship performance, but we'll leave that for the review).
The company also brought its excellent VOOC fast charging tech. The charger included in the retail box pushes 5V at 4A - that's 20W of power, compared to something like Quick Charge 3.0 or Google's Power Delivery implementation, both of which top out at 18W. After 5 minutes of charging, the Oppo R9s is ready for 2 hours of voice calls. And since charging is done at 5V, the phone remains cool.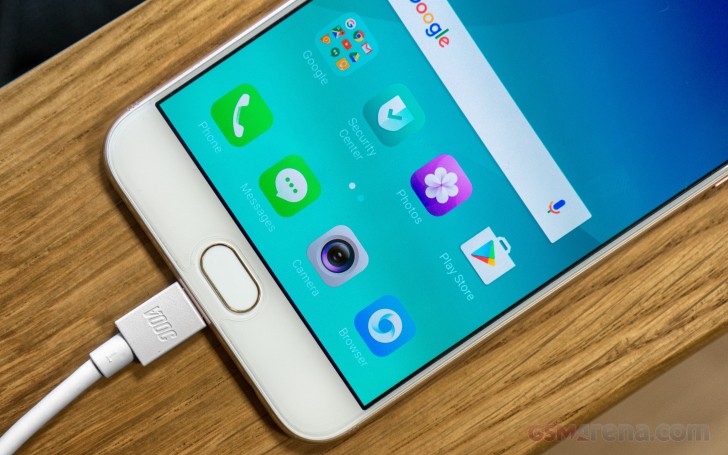 Camera
The Oppo R9s is probably the first phone with Sony's IMX 398 sensor - it's definitely the first one we've encountered. What separates the 398 from the 298 used in phones like the OnePlus 3T? It's the Dual Pixel autofocus, similar to that used in the Samsung Galaxy S7.
The sensor has 16 million pixels, each 1.12µm big and is behind a very bright f/1.7 aperture (matching the S7 and beating iPhone 7's f/1.8). It should excel in low-light performance - the aperture lets plenty of light in while Dual Pixel offers reliable focus at times when regular Phase Detection might fail.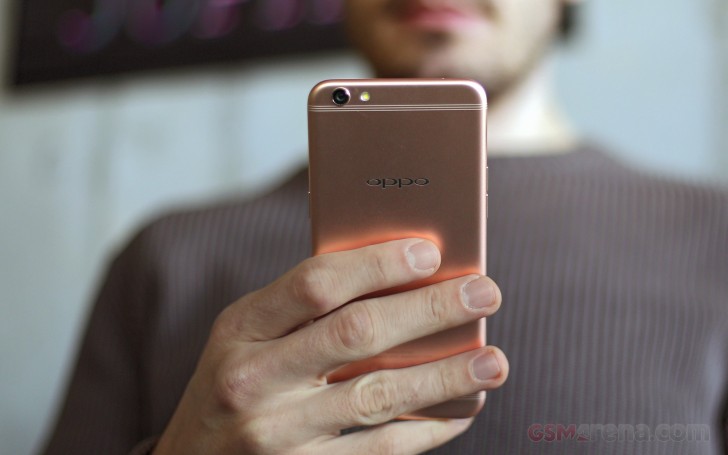 The camera on the front also uses a 16MP camera with another Sony sensor with Deep Trench Isolation. It reduces crosstalk between pixels (it's similar to Samsung's ISOCELL). This camera is fixed-focus and has an f/2.0 lens with 78.2° field of view (you can extend that to 120° with the Selfie Panorama feature).
The weather wasn't cooperating, but we still managed to snap camera samples (if it clears up, we'll shoot new ones for the review). Here's a preview of the capabilities of the Oppo R9s.
It's winter so the sun is low in the sky and it's quite foggy, which is nice if you want to push HDR mode to its limits, bad if you want a clean camera sample.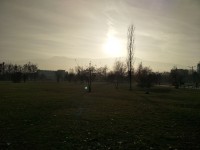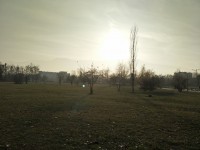 Oppo R9s camera samples: HDR off • HDR on
We also snapped ь low-light shot.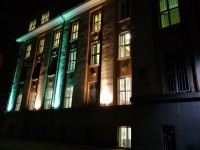 Oppo R9s camera sample: low-light
First impressions
We spent several hours with the Oppo R9s, and we're coming away impressed - with its build and fingerprint reader mostly. The camera shows promise, but it will have to work harder to earn our praise. We haven't even gotten to the front camera yet (Oppo has experience in this area, it produced a self-proclaimed "Selfie expert").
The R9s is feeling particularly compact, you may be fooled into thinking it's a 5.2" phone. The narrow bezels help, but the phone also catches the eye with how thin it is. We're starting the battery tests, but capacity looks to be enough, and VOOC is among the fastest chargers ever.
Speaking of fast, the fingerprint reader is blindingly so. It helps a lot that the screen comes on instantly instead of fading on. Other makers can learn a thing or two from Oppo - for starters, how to give the impression of instant unlocks and how to integrate the antenna lines better into the design.
D
Exactly what I was thinking :D
D
iPhone and galaxy had a terrible relationship and had an "accident" = OPPO R9S
S
Wow, that's a nice looking iPhone! Oh wait...