Android Pie with Color 6
The Reno 10x zoom boots Oppo's latest Color OS 6 running on top of Android 9 Pie core.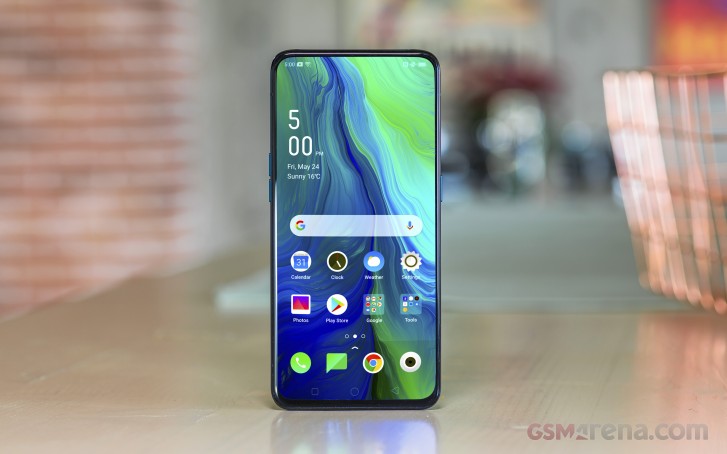 Color OS 6 is based on a light color scheme, mainly mixing a white backdrop with light color gradients. Oppo says the choice of white is meant to create an airy atmosphere. A major part of Color OS 6 is the new universal font - Oppo Sans - which Oppo has developed in cooperation with known Chinese typeface firm Hanyi. And finally with this version Color OS gained an app drawer.
As usual ColorOS 6.0 has built-in machine learning that will freeze apps in the background, instead of closing them. The so-called AI application quick freeze will analyze your app activity for 2 weeks to learn your habits. You can configure/opt out of this behavior from the battery settings.
You can use both fingerprint and face recognition for screen unlock, with the under-display optical fingerprint scanner taking a priority. It's blazing-fast, almost as fast and accurate as the conventional ones and we had excellent experience with it. The Face Unlock activates if the finger recognition fails, and while it's super fast on its own you need to wait for the selfie camera to pop-up, so you still need about a second.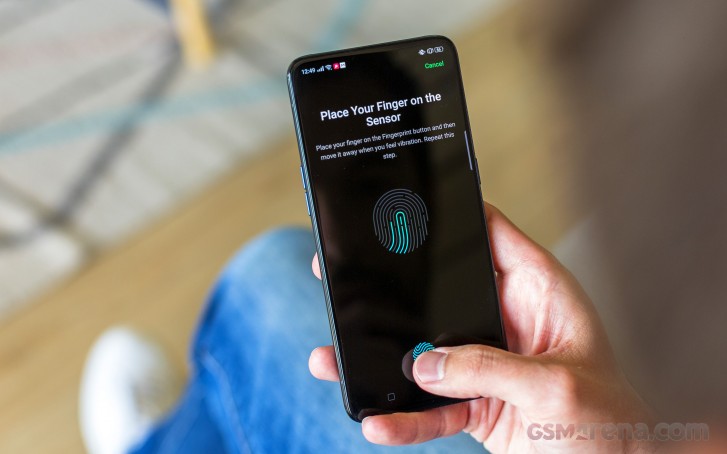 The Color OS lets you enable an always-on clock and has the usual homescreens with a widget pane - a rather standard affair.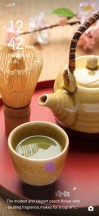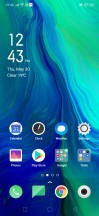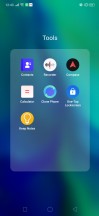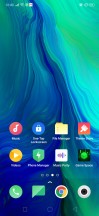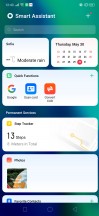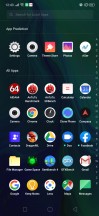 Lock and home screens, the app drawer
As any other Oppo, you can spruce up the UI with Themes. The Theme Store features both whole themes and just wallpapers, sorted into categories (including free and paid ones.
The notification shade features notifications, quick toggles, and a brightness scrubber and has a brand-new look. The task switcher is akin to Apple's, though it has an End All button. And split screen is available for all compatible apps.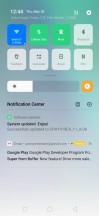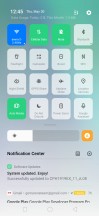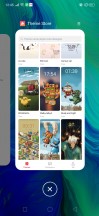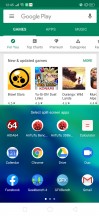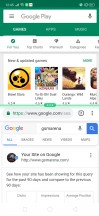 Notifications • Toggles • Task Switcher • Split screen • Split screen • Split screen
The Full-Screen Gesture navigation is available for the Oppo Reno 10x zoom, though the default option is a virtual navigation deck with the usual trio of keys.
By the way, if you are keen on launching the Google Assistant with a hardware key instead of a virtual one, you can assign a short press on the Power Key to summon it.
Clone apps and file safe functions are on board, as well as real-time translation thanks to an improved voice assistant.
There is a Phone Manager quite similar to what Huawei and Xiaomi have on their phones under the same name. It handles memory cleaner functions, app permissions and encryption, and virus scanning.
Game Space allows you to handpick which notifications pass through when you are playing games and you don't want to be interrupted. There are also different performance modes and an option to lock the brightness only for certain games.
Oppo provides multimedia apps of all sorts - Gallery, Music, and Video. There is also a File Manager app.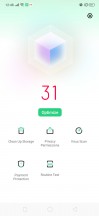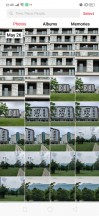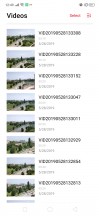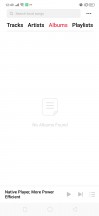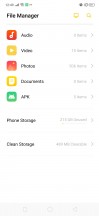 Phone Manager • Gallery • Videos • Music • Files
Performance and benchmarks
The Oppo Reno 10x zoom utilizes Qualcomm's top-shelf Snapdragon 855 chipset. There is a 5G version and a regular 4G model - and we have the latter. There is also an Oppo Reno model (sans the 10x zoom) with a Snapdragon 710 chip instead of 855.
The Snapdragon is based on the 7nm node from TSMC and incorporates an octa-core CPU that Qualcomm calls Kryo 485. There is one most powerful Gold core (Cortex-A76 derivative) clocked at the whopping 2.84 GHz, then there are three more Gold cores clocked at 2.42 GHz and a cluster of 4x Silver cores (Cortex-A55 derivative) ticking at 1.79 GHz.
This unusual processor architecture makes use of ARM's DynamIQ architecture that bundles different cores with different clocks work seamlessly in a single package.
The GPU is Adreno 640 and it's Qualcomm's top of the line graphics processor that can handle pretty much everything you throw at it, especially on a 1080p screen.
The Oppo Reno 10x zoom has 8GB of RAM and 256GB of storage.
We ran our traditional benchmark routine and the Snapdragon 855 chip inside the Oppo Reno did as expected - on par with other S855 devices such as the LG G8.
The latest Qualcomm processor is indeed the best one available on any Android today and only Samsung's latest Exynos is a match for it. The regular Reno has the same processor as the Oppo RX17 Pro and you can see the Snapdragon 855 achieve double its scores.
GeekBench 4.1 (multi-core)
Higher is better
Xiaomi Mi 9
11181
LG G8 ThinQ
10735
Oppo Reno 10x zoom
10395
Samsung Galaxy S10+
10387
Huawei P30 Pro (perf. mode)
10014
Huawei P30 Pro
9649
Oppo Find X
8018
Oppo F11 Pro
6020
Oppo RX17 Pro
5944
Realme X
5915
GeekBench 4.1 (single-core)
Higher is better
Samsung Galaxy S10+
4522
Xiaomi Mi 9
3503
Oppo Reno 10x zoom
3424
LG G8 ThinQ
3419
Huawei P30 Pro (perf. mode)
3323
Huawei P30 Pro
3270
Oppo Find X
2322
Oppo RX17 Pro
1835
Oppo F11 Pro
1560
Realme X
1475
The Adreno 640 is a beast as evident by both the offscreen and onscreen tests. And the Reno having a 1080p screen makes it perfectly equipped to handle any available cutting-edge game at the time of writing and probably the ones to launch in the next couple of years.
GFX 3.1 Manhattan (1080p offscreen)
Higher is better
Xiaomi Mi 9
70
Samsung Galaxy S10+
69
Oppo Reno 10x zoom
67
LG G8 ThinQ
65
Oppo Find X
60
Huawei P30 Pro (perf. mode)
56
Huawei P30 Pro
54
Oppo RX17 Pro
23
Oppo F11 Pro
14
GFX 3.1 Manhattan (onscreen)
Higher is better
Oppo Reno 10x zoom
57
Xiaomi Mi 9
56
Oppo Find X
50
Huawei P30 Pro
50
Huawei P30 Pro (perf. mode)
50
Samsung Galaxy S10+
37
LG G8 ThinQ
33
Oppo RX17 Pro
19
Oppo F11 Pro
12
3DMark SSE 3.1 Unlimited
Higher is better
Oppo Reno 10x zoom
6052
LG G8 ThinQ
6017
Xiaomi Mi 9
5816
Oppo Find X
5123
Samsung Galaxy S10+
4632
Huawei P30 Pro (perf. mode)
4315
Huawei P30 Pro
3522
Oppo RX17 Pro
1976
Oppo F11 Pro
1275
Finally, the compound AnTuTu test just confirms the Reno 10x zoom features the right hardware and for its price tag you are getting indeed one of the best the Android market has to offer.
AnTuTu 7
Higher is better
Xiaomi Mi 9
372006
Oppo Reno 10x zoom
364220
Samsung Galaxy S10+
333736
LG G8 ThinQ
331537
Huawei P30 Pro (perf. mode)
316156
Oppo Find X
291218
Huawei P30 Pro
290189
Oppo RX17 Pro
154861
Oppo F11 Pro
150218
So, as far as performance is concerned, the Oppo Reno 10x zoom won't leave you wanting. And it manages heat well - it may get a bit warm here and there, but nothing worrisome and throttling is rarely an issue even with repeated benchmark runs or prolonged gaming sessions.