The Oppo Reno and Reno 10x zoom will make their debut in Europe soon. They are the same phones that were unveiled in China a couple of weeks ago (and the vanilla Reno is already on sale there).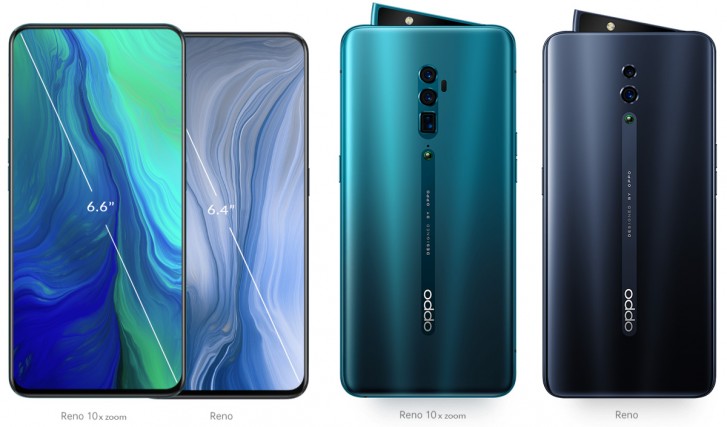 As a quick recap, Oppo Reno 10x zoom features a notch-less 6.6" OLED screen thanks to a unique shark fin pop-up (16MP selfie cam). The phone's best feature (and reason for its name) is the periscope zoom lens on the back, which joins the wide and ultra-wide cameras. Both the periscope and the wide camera have OIS.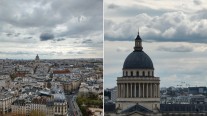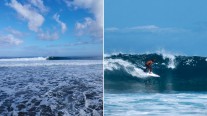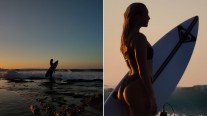 The Oppo Reno 10x zoom lives up to its name thanks to a periscope camera
Note that the telephoto camera has 6x optical zoom compared to the main camera and 10x hybrid zoom (hence the name). The ultra-wide camera is labeled as 0.6x zoom.
This model is powered by the latest Snapdragon 855 chipset and will launch with Color OS 6.0 (based on Android 9 Pie). It will only be available with 8GB of RAM and 256GB storage.







Oppo Reno 10x zoom in Ocean Green and Jet Black
The Oppo Reno drops down to a 6.4" OLED screen, but keeps the shark fin camera. It does lose the periscope and ultra-wide cameras, however, leaving it with the 48MP main shooter (without the OIS) and a 5MP module that assists with bokeh and night time shots.
The Reno a mid-range phone based on the Snapdragon 710 chipset, its base configuration is 6GB RAM and 128GB storage, though you can get an 8/256GB version too.







Oppo Reno in Jet Black and Ocean Green
This means that only the 10x zoom model has the processing power for 4K at 60fps video (the vanilla model tops out at 4K/30fps). Also, as a more premium model it gets dual-frequency GPS and Audio Focus, which uses multiple microphones to keep video and audio in sync as you zoom in.
Both phones have in-display fingerprint readers, stereo speakers and VOOC 3.0 charging, however only the Reno 10x zoom offers Dolby Audio and a slightly larger battery. The vanilla Reno does get a 3.5mm headphone jack, which the premium model lacks.
The Oppo Reno 5G is based on the 10x zoom. The company has partnered with Swisscom (Switzerland), EE (UK), SingTel (Singapore), Telstra and Optus (Australia) to launch globally. The Reno 5G might be the first 5G phone to be available in Europe. Swisscom launched its 5G network in Zurich just two weeks ago. EE will trial its 5G network at the Glastonbury Festival (which will be held in late June).
The Reno will start at €500 and will be available on May 10 in France, The Netherlands, Italy, Spain and Poland. The Oppo Reno 5G - priced €900 - will also launch in May. The 4G-connected Oppo Reno 10x zoom version - €800 - will come after that, in early June. So, if you want early access to the periscope camera, you'll have to grab the Reno 5G.
Oppo also announced that the Reno 10x zoom and Reno 5G will enjoy International Warranty Service (the vanilla phone is excluded, however). This means that your phone can be repaired at authorised Oppo service center in any country where Oppo has an official sales channel.
S
Does anyone know where I can buy this online in Europe? The Reno 10x that is. I can only find the regular reno sadly.
J
Does this mean the Chinese 10x will be more expensive too ; since I know the Chinese model will work with my carrier already?
B
Oppo has carrier support on some networks in Australia. Optus (mentioned in the article) has released the R15 Pro, R11, R9s, F1, AX7 among others. They are all stuck on the software they launched with (R11 is on 7.1.1, R9s is on 6.01). Optus are gene...
ADVERTISEMENTS