Oppo is cooking the Find 7 phablet but it seems to be a smaller device in the pipeline too. The Oppo Neo (Neo is a popular choice of name recently for some reason), which had its name and basic specs revealed by a teaser on Oppo Indonesia's fan page.
The Oppo Neo will have a 4.5" IPS LCD display that can detect touches from gloved hands too. The screen resolution is unknown.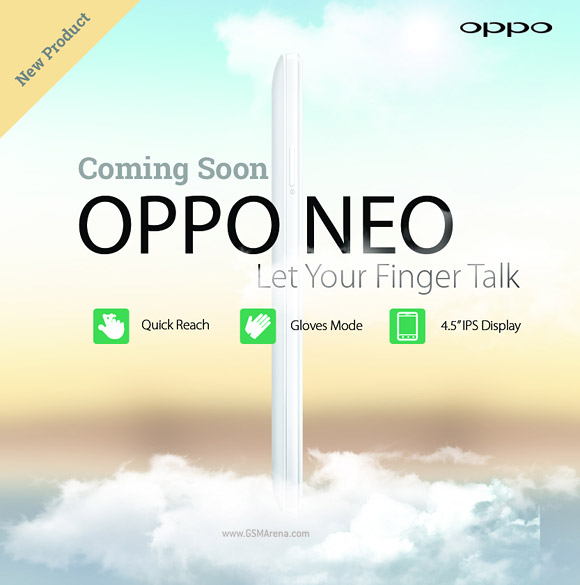 The third feature mentioned in the teaser is called Quick reach, Oppo's gesture-based feature that can trigger a variety of features. The sub-heading for the teaser is "Let your finger talk," which is an appropriate description of the feature.
Unfortunately, the teaser doesn't go beyond "Coming soon" and all we get is a side shot of the device. Note that Oppo also has a 4.3" entry-level Android in the works too.
Thanks to Gerry for sending this in!
D
official now https://www.facebook.com/photo.php?fbid=254311381399859&set=a.146180902212908.33043.134343300063335&type=1
?
hope for quad core and battery above 3000mah
S
Samsung comes out with Neo, Oppo comes out with Neo
ADVERTISEMENTS