Earlier this month there was a rumor that Oppo is working on a 6.1mm thick smartphone, the R809T. Well, that phone is now official in China, but it's thicker than that – at 6.93mm it's quite slim but can't beat the Oppo Find (6.65mm).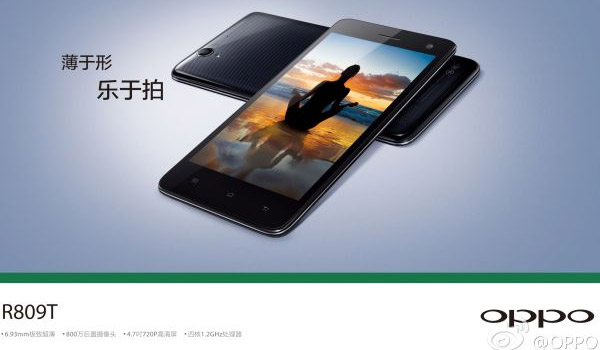 The Oppo R809T sits somewhere between the Find 5 flagship and the Find in terms of specs. It boasts a quad-core 1.2GHz processor with 1GB of RAM, runs Android 4.2 Jelly Bean, a 4.7" 720p in-cell screen, an 8MP main camera and a 2MP secondary camera with an 88° field of view.
There's no launch date or price for the Oppo R809 just yet.
M
Oppo first got the title as the world's slimmest mobile phone. Oppo R809T With The Size Of 6:13 Millimeter Ready To Become Thinnest Android Mobile Phones In The World Read more >> http://technolookers.com/2013/04/11/oppo-r809t-with-th...
D
What do you mean its hard holding it sideways ? You cleary have small hands. Just hold it horizontally then tilt it to the left. -_- and thicker doesn't always mean bigger battery, in this case it's making it longer for thinnest.
ADVERTISEMENTS