As part of the launch event for the R7 and R7 Plus handsets, held today, Oppo also officially unveiled the latest version of its own Color OS. This next major update is based on Android Lollipop and aims to bring Google's improved experience to the company's device line.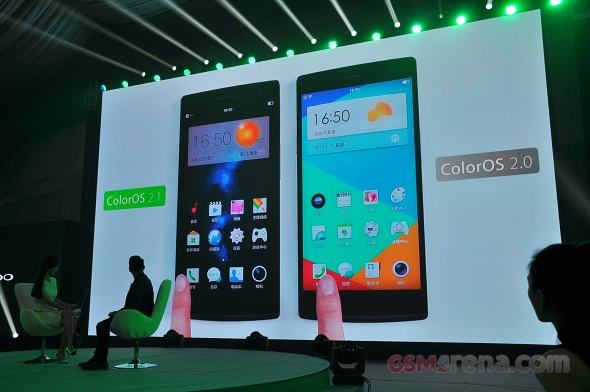 But, while the OS is being showcased alongside Oppo's brand new devices, a beta build already exists for the Oppo Find 7 and 7a, so we already have a pretty good idea as to what is has to offer.
The most apparent changes to Color OS are to the UI. The new Lollipop base has inspired a move to a new, flatter and simpler design. The design has also become brighter and a lot more dynamic. Icons have been redesigned as well. This includes the system apps, as well as custom icons for about 200 popular apps, so, you can expect a uniform look and feel across the launcher.
But Color OS 2.1 also has a lot more to show than a new prettier interface. Under the hood, the OS has undergone a lot of changes to make it faster and more responsive. Oppo boasts a reduced boot time, from 31 seconds in Color OS 2.0 to just 19 seconds in the new version. The platform is also said to be optimized for faster app launches, as well as several popular third-party applications, which should be a lot more-fluid.
Naturally, both new handsets will run Color OS 2.1 out-of-the-box and we are fairly certain that the aforementioned Find 7 and Find 7a will get the OTA pretty soon. Availability for other Oppo devices is not clear yet, but judging from the company's track record, they should get an equal share of attention.
a
it is too easy to update to color os 2.0 goi to nearest oppo service center
J
Exactly Bro ! The OTA update 2.1.3 for Lollipop is supposed to have been released , yet in India it still isn't showing and I'm stuck on Jellybean !! Isn't India a big enough market for them release it here on time !!
R
It is very unfortunate that Oppo people are not trying to satisfy the customers who have purchased thier mobiles in India. My Find 7 is still in Color OS v1.2.9i on top of Android V4.3 which is quite old now in all aspects. I have tried to reach Oppo...