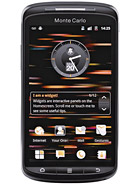 D
sold monte carlo but still miss it the only limitation i found on this cell was 180mb of internal for games but u can use sd card
D
besbeqa20, 24 Jun 2012I had Monte Carlo for less than six months and had problemes too: Bad Things: 1- When u ar... morehi, thanks for the Link, I have Monte Carlo and all very well
D
How can I update to android 3.0 or better version?

I have Orange Monte Carlo (ZTE SKATE), and quit the orange menus, Thanks


PD: It´s a good phone .
R
using it for 10 months no fault , amazingly attractive with a 4.3 inch screen internal memory is normal if u use it wisely i have 100 games n apps 30 mb free , and according to price very reasonable phone, good in gaming better then wildfire s .... very underrated i think only that people have rated it who use duel cores or having problems with there cell
b
I had Monte Carlo for less than six months and had problemes too:
Bad Things:

1- When u are in a call cant hang up the phone call your self (its for both sides , when someone calls u & when u call someone.
2- When trying to film a video (not pics) your voice is not recorded, but its recording only the video without voice.
3- The speaker and mic are very poor and creates noisy background.
4- Doesn't get strong signal compare to other mobiles.
5- The WiFi isn't as strong as it should be.
6- When u install some programming/software on it starts having different problems with its operating system, and become slow and doesn't responde properly and gives u wrong functions.
7- The battery is so week.
8- Small internal memory.
9- Battery doesnt keep u long.
10- Lots of rubbish software from orange cames with it.

The good thing about this phone is:

1- The CPU/Processor is 800 Mhz.
2- 512 Mb Ram.
3- Big screen for games, videos, pictures, and for the Internet, it looks and feels like u r on a PC or LapTop.
4- u can Use a M2/Micro Memory Card up to 32Gb to store your videos, pictres, Documrnts and even to install games on memory card.
5- can be installed for free Ice Cream Sandwich software from this website http://montecarlophone.co.uk/
or can remove orange stupid software that comes with it or u can install fresh install 2.3.2 gingerbread without crap orange software.

Hope u like the info i gave you and hopefully will find it helpfull.
R
1. Camera is (was) really good.
2. Mobile has been return as there is no flash player and cannot install any flash player from the market (play).
c
phone's microphone has gone and had the phone under a year and the phone doesnt unlock when you calling our answeing your phone. reading voicemail message are out of the question as you cant unlock it
P
Excellent Value for money, extremely underated handset, fantastic clear and smooth screen
Total of 31 user reviews and opinions for Orange Monte Carlo.
ADVERTISEMENTS