Orange officially announced that the launch of the iPhone 3G and 3GS will be on 10 November. Their future iPhone plans are absolutely identical to those of O2 ones and you can have the 3GS free for 44 GBP on a 24-month contract.
Much like recently suggested the iPhone 3GS will see daylight in the Orange networks in about a week on 10 November. Back then Orange officials denied that there will be an iPhone price war in the UK with pricing projected to be the same as that of O2 UK.
Well, looking at the new Orange iPhone plans we noticed that they are absolutely identical to the O2 ones - both in bonuses and prices. You can have the iPhone 3G free for 30 pounds on 24 months contract, while the 3GS is free for the 44 pounds plan.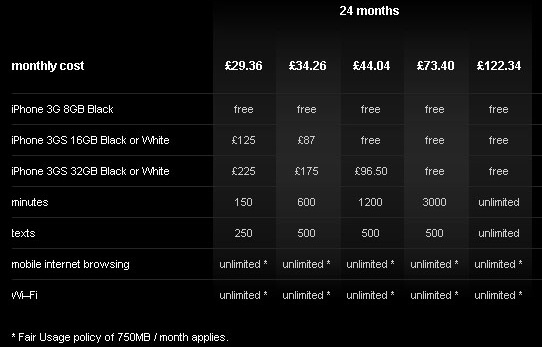 The Orange iPhone will be available through 402 Orange shops in UK, the Orange online shop, Orange HMV concessions, Carphone Warehouse, Phones4U and more. For more information on the price plans you can visit Orange iPhone page.
r
Accede a www.iphoneorange.es. Tiene todas las tarifas de orange para iphone en España.
?
Does anyone have any insight as to whether or not the cost of the actual handset will be reduced on either network?
?
One difference between the tariffs is that on o2 you can use your free texts as mms and to text from abroad also, greater flexibilty.
ADVERTISEMENTS