Orange UK is going to offer exclusively a Fashion Edition of the smallish Sony Ericsson XPERIA X10 mini. It's a standard black XPERIA X10 mini with two free fashion jackets and some style-oriented apps and wallpapers.
The two extra jackets you get are pink and white decorated with fashion flower motives. The ladies are obviously the target of this campaign.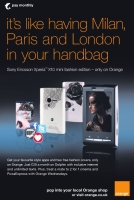 Sony Ericsson XPERIA X10 mini Fashion Edition
The XPERIA X10 mini comes with Android 1.6, but the 2.1 Eclair update is already rolling out.
Orange UK offers the XPERIA X10 mini Fashion Edition for free on a two year contract with a 20 pounds monthly tariff.
a
Ye SE rules.. im soooo glad i got the brilliant Satio last year.. hold on wait let me think for a minute.. erm sorry SE suck lol.. ive had SE handsets for years namely.. w900i, k800i, k750i, d905, satio.. had loads of problems with the last three m...
r
I've updated my mini yesterday to the 2.1 platform. It's out in the uk for the non-branded handsets. Ta.
d
SE will loose its customers due to delay in releasing its update.. today android 2.3 had been released,but SE still runs 1.6..
ADVERTISEMENTS