Oreo reaches 0.3% of the Android market in latest distribution chart
At this point, the slow growth in distribution numbers for the latest version of Android is nothing new - the fact is, it's always been like this. It's still pretty funny to see Oreo at a whopping 0.3% of the market at the moment, growing from 0.2% one month ago. When interpreting those numbers, remember that Google released Android 8.0 Oreo back in August - but even so, it was nowhere to be seen in the chart in September.
Anyway, this also goes to show how few Nexus, Pixel, and Sony devices are out in the wild, because up until now only (some of) those launched with or got updated to this iteration of the OS.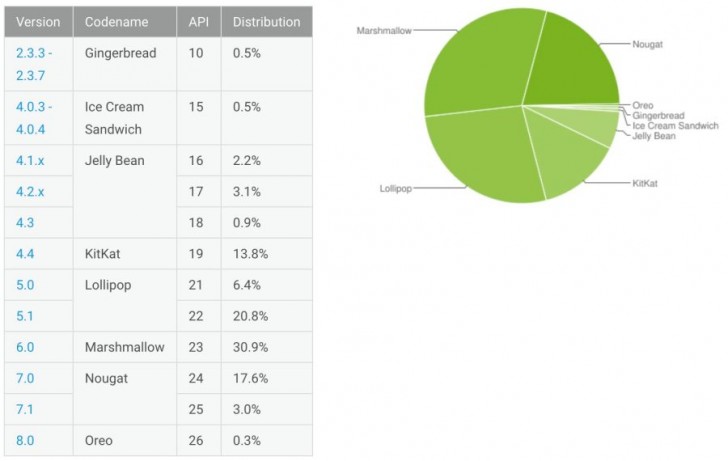 Nougat on the other hand keeps growing steadily, reaching 20.6% of the pie this time around, up from 17.8% in October. Marshmallow is losing some traction but remains the most used version of Android right now, with 30.9% of the market. With 27.2%, Lollipop is still close by. KitKat is the oldest one that still nets double digits at 13.8%, while all the others combined merely reach 7.2%.
It is not postponing the time of release of new versions of Android that will solve the problem. Google will only solve this problem when, like Microsoft, it takes on the role of keeping all Android devices up-to-date, whether it's hers or not.
A
You have an interesting sentence, yes right if there is no Android it might be all only there is Apple and course Apple will be number 1 today, maybe i just have old Symbian phone, Windows phone or if not maybe touch screen such as Nokia N8, Nokia 80...
A
For everyone, I don't care about updates because I only have entry-level phone with marshmallow os, using some native apps/stock on android, playstore, playing games is pretty sophisticated, Back when I had a Symbian Nokia like E63, N70, when I hav...