Smart mobile device shipments for Q1 of this year have reached a record 308.7 million units, according to the latest report by Canalys. The number represents a growth of 37.4% compared to Q1 2012.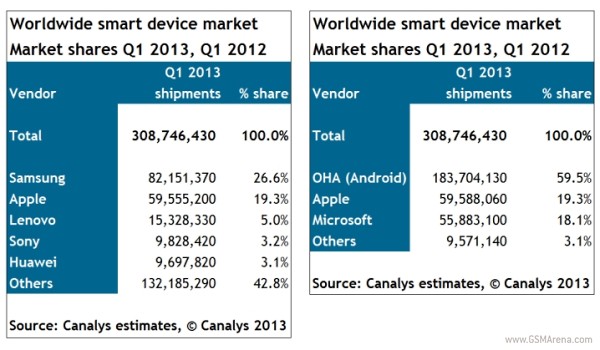 As is usually the case, Android has the lion's share of the market, with some 59.5% of devices being part of Google's Open Handset Alliance. Apple and Microsoft follow with 19.3% and 18.1%, respectively.
Globally, tablet shipments have taken the largest leap, with some 41.9 million units shipped - a whooping 106.1% annual increase. Apple continues to lead with a 46.4% market share, but it lost more ground to Android and things are getting closer.
In the smartphone realm, Android controls some 75.6% of the market, with Samsung being the major contributor to that cause, and growing by some 64.3% year-on-year. Apple saw its lowest annual growth since the release of the original iPhone in 2007 - just 6.7%. Canalys attributes this to the now-dated software of the iPhone, which is badly in need of a refresh.
Finally, Android's impact can be felt in the Notebook PC realm as well, where shipments have gone down by 13.1% compared to last year. ARM-based chipsets are forcing traditional heavyweights like Microsoft and Intel to retail their devices at lower price points if they hope to remain competitive.
?
Did you read the notes below the chart? It says their the data are preliminary and subjected to change. Cry lg fans, of flops.
?
Cry lg fanboys cry more.
?
not in the smartphone sony didn't make it to the top-5 in the smartphone category .
ADVERTISEMENTS