Nokia has bet the house on Windows Phone and the numbers show that the Finnish company dominates the field when it comes to Microsoft's mobile OS. The stats were posted by the analysts over at Localytics and are based on app usage statistics from the Windows Phone Market place. Yet, Stephen Elop should probably hold off on popping open a bottle of champagne.
Worldwide Nokia holds over half of the market share of Windows Phone 7 handsets. They crossed the 50% mark in May and have continued their ever upwards trend since then.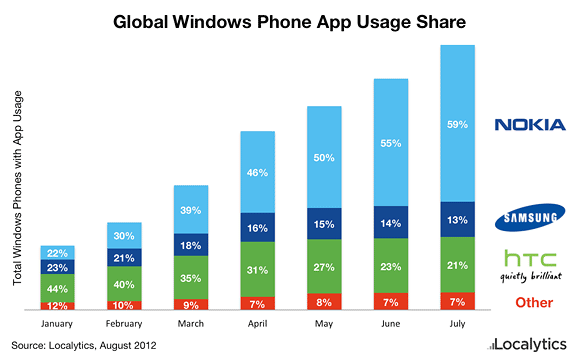 Nokia's Q1 and Q2 reports, however, puts things in perspective - 2.2 million Lumias were sold in the first quarter and 4 million in the second. It didn't take all that much to conquer the Windows Phone market.
Still, Nokia's push has helped Windows Phone grow 312% in the first half of this year alone. For their effort, Nokia took a $750 million check from Microsoft.
In the US - a market that Nokia has been desperately hoping to recapture - things aren't quite as rosy. The first Lumias hit US shores in January this year, so the company got a slow start. It climbed into second place in May but is still 4 percentage points behind the leaders, HTC.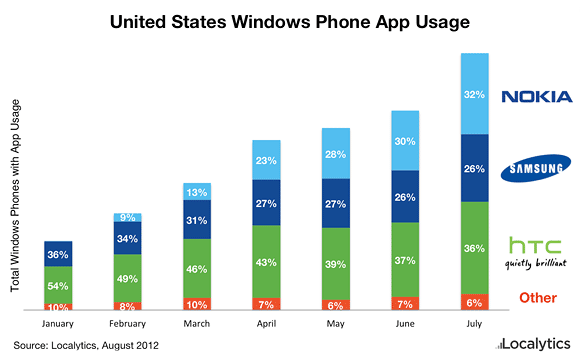 The good news is Nokia does hold a third of the market in the US and WP share there has grown 273% since the beginning of the year.
Of course, all those numbers will soon become irrelevant - since no current WP7 devices won't see Windows Phone 8 (just 7.8), the new mobile OS from Microsoft will have to start from scratch.
It does fix a lot of issues with WP7 by adding support for more varied hardware and a great deal of exciting software features. And if Nokia leads the WP8 assault with a PureView-powered WP8 phone, things might start to look up for the ailing giant. A Windows 8 tablet won't hurt either, but that's just hearsay for now.
Nokia is feeling confident in the next-generation Lumia phones, that will come on September 5.
?
59% of a few clueless buyers is still a few clueless buyers. And it shouldn't surprise anyone that most Microsoft Windows Phones are Nokias, given that Microsoft made sure one of their own people was CEO at Nokia. It's not in Nokia's (or their ...
D
for calling and messaging, we don't need shitty 808....even 1100 is enough.....and i can keep my S3 in pocket but not laptop....and i can do almost all the things on my S3 which u people do that on your laptops.....LOLs
D
"Used galaxy Note for 2 months and found that it is a phone for school kids only" Just crap....does u really know how it looks?.....LOL
ADVERTISEMENTS