Good news for all Palm fans that have been dearly waiting for a GSM reincarnation of the new Web OS. The Palm Eos is now almost official, while it's finally clear the GSM-spec Palm Pre will hit UK via O2.
This certainly isn't the first time that we hear about the Palm Eos but now things have gotten quite more official as some marketing slides leaked off AT&T.
The leaked AT&T documentation confirmed the Palm Eos and gave us some pretty detailed specs as well. The Palm Eos is strikingly thin with its 10.6mm thickness and the good thing is that the slimness doesn't come at the expense of the high-end features.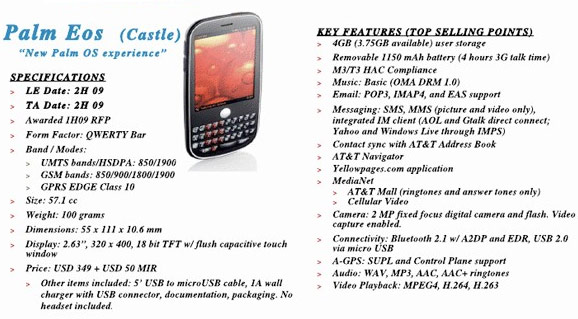 The Palm Eos supports quad-band GSM/EDGE with dual-band HSDPA connectivity, Bluetooth v2.1 with A2DP support, microUSB v2.0 and GPS with A-GPS feature. The phone has a 2.63" 16M color capacitive touchscreen display of 320x400 pixels resolution. The 2 MP camera with flash and video recording and the 4GB built-in memory completes the rest of the noteworthy spec.
The Palm Eos will be released in the second half of 2009 at an estimated price of 350 US dollars (250 EUR).
While we are waiting to see the official release of the Pam Eos, the first information regarding the availability of the GSM version of the Palm Pre have just surfaced as well.
According to the Guardian, O2 have secured the exclusive Pre deal for the UK, but pricing and exact release schedule are still unknown.
Source: Engadget
S
salo madam je suis fatigis
?
wtf we are in the middel of 2009 2mpx and FIX focus comm'on 4gb its really small only thing is it looks good
m
Palm Eos everything ok accept user memory (only 4 GB) no fm, only 2mp camera no auto focus, no card slot, (need a card slot), and this device has a multi touch screen so no need a keyboard. Thanks.
ADVERTISEMENTS