3 megapixel camera with flash and no autofocus
Palm Pre comes with a 3-megapixel fixed focus camera with LED flash and geo-tagging. There are no settings at all. You can't even change the image quality or resolution.
Your only chance of interaction is switching the flash on or to set it to auto mode. Kinda reminds the iPhone, doesn't it?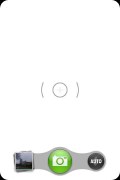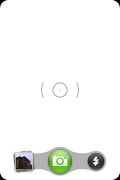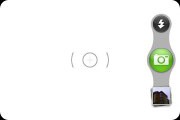 The Palm Pre camera "interface"
And when it comes to the images themselves, the situation isn't much different. Color rendering and contrast are good. Noise levels are low, but that is achieved through heavy noise-reduction that smears away fine details and textures. The sharpening algorithm on the other hand is way too harsh and produces visible artifacts in the photo.
We carried out a short shoot-out pitting Palm Pre, Nokia 5800 XpressMusic and Nokia E71 against each other. As you can see, none of them managed to impress with results. Nokia E71 turned out the best among those three while Pre's shots were the worst.
Synthetic resolution
We also snapped our resolution chart with the Palm Pre. You can check out what that test is all about here.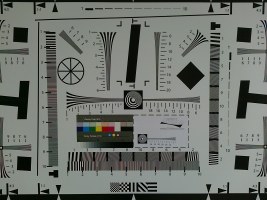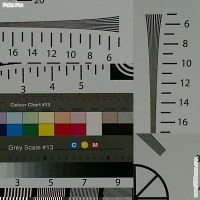 Palm Pre resolution chart photo • 100% crops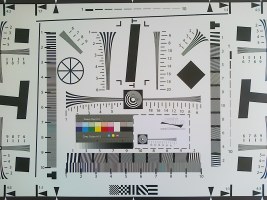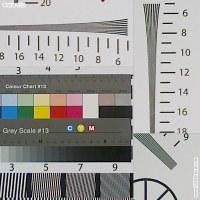 Nokia E52 resolution chart photo • 100% crops
As you can see from the resolution chart, the resolved detail is not as much as we hoped and the resolution doesn't seem enough for a 3 megapixel snapper.
No video recording out of the box
The Palm Pre can't record video out of the box. However, there is an application that enables video recording but it's still so early in development there isn't even a beta version. Well, it has a major flaw - there is no live viewfinder. The videos however are promising - the Precorder captures 480 x 320 pixel videos @ 30 fps.
The Precorder is an unofficial application so in order to get it you have to do some careful reading. This is a nice guide which will help you to get your Palm a video recorder and much more apps that aren't available in the App Catalog.
Here is a sample video captured by the Pre.
Connectivity: Bluetooth trimmed down
When it comes to connectivity the Palm Pre has it all - HSDPA, Wi-Fi, and Bluetooth. But here comes the cold shower: Bluetooth support is limited to headset use only (luckily, A2DP is supported) so forget about file transfers.
The good news about file transfers is that you can access the 8GB worth of internal memory in mass storage over a USB cable - unlike the iPhone.
The Pre has quad-band GSM support and tri-band 3G at 850, 1900 and 2100 MHz. You can check out our Worldwide GSM Network Bands distribution database for more info on those.
USB 2.0 connections are supported as well (through a microUSB port). When connected to a computer, the Pre prompts you to select between Media Sync, USB Drive or Just Charge mode. You can use your Pre as an external storage.
A 3.5mm audio jack for the audiophiles is also onboard.
Nice web browser
The Palm Pre packs a nice WebKit based browser but without Flash support. There's no Flash video either but that's coming up sometime in 2010 with the Adobe Flash Player 10.1.
The browser is extensively touch-optimized and supports multi-touch. On that nice capacitive screen and powerful hardware, the web browsing experience on the Pre is just great.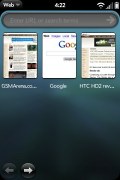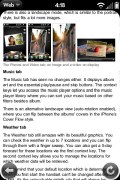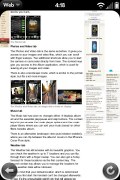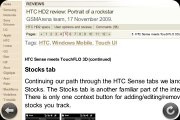 The Palm Pre web browser is nice and thumbable
Pages load quickly and look very good on the 3.1" screen, the pinch zoom is smooth and very fast with no visible lag. Scrolling up and down the page is also fast and fluid.
The first thing you'll see when starting the web browser are the bookmarks displayed as small web screenshots. In the field above them you can enter the address of a web site or enter a search query.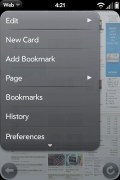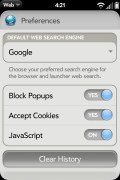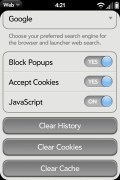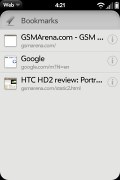 The Palm Pre web browser is great
As far as the currently missing Flash video support is concerned, there is a partial compensation for that - you get a preinstalled YouTube client, so watching streaming videos from the mobile YouTube version is trouble free.