After heating up the web for a couple of weeks Palm finally announced the awaited Palm Pre. Equipped with a touchscreen, a sliding QWERTY keyboard and a new touch OS, dubbed as webOS, it is aimed at stealing quite a big piece of Apple's market pie.
The new Palm Pre is a compact devices measuring at 59.5 x 100.5 x 16.95 mm with a weight of 135 g. Not bad at all (maybe just a bit chunky), considering the fact the Pre is actually a slider with a QWERTY keypad.









Palm Pre will be initially availabe in CDMA version for Sprint USA, GSM to follow next
Palm Pre has a 3.1" touchscreen with 320 x 480 pixels resolution and support for multi-touch. There's also an accelerometer for an extra snappy auto screen rotation and below the screen - a special gesture area and a center button. The gesture area is a special zone under the display which allows the user to interact with the interface by using simple gestures (such as "left slide" for Back).
As we've already told you, the new smartphone will be positioned between the straight business devices and the straight fun-oriented ones bridging both worlds.
It's powered by a TI OMAP 3430 processor which is expected to be powerful enough to handle all the business task. Palm Pre offers Wi-Fi, Bluetooth (A2DP + EDR), microUSB and an inbuilt GPS receiver.
One of the hottest things about the Palm Pre is its optional Touchstone charging dock. Once you get yourself the dock and a new magnetic back cover for your Palm Pre (all sold separately) you can charge the device by simply placing it on top of the Touchstone. No plugs or wires needed! And if that ain't cool...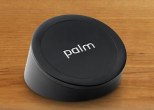 Palm Touchstone charging station - no connectors needed
The onboard memory is 8 GB however there is no way to extend it as there is no memory card slot. Good news is the USB mass storage support so you won't need any special drivers to transfer files between the smartphone and a computer.
There is no sync software available, as the Palm Pre won't need desktop syncing at all. Much like the T-Mobile G1 everything - from your contact and messages to your notes and calendars gets synced with the web cloud wirelessly.
And finally, the Palm Pre flaunts a built-in 3-megapixel snapper, which however is not that exciting as it lacks auto focus and is not even able to record video (subject to a future upgrade by Palm). The standard 3.5 mm audio jack however is a nice add-on to the specs list.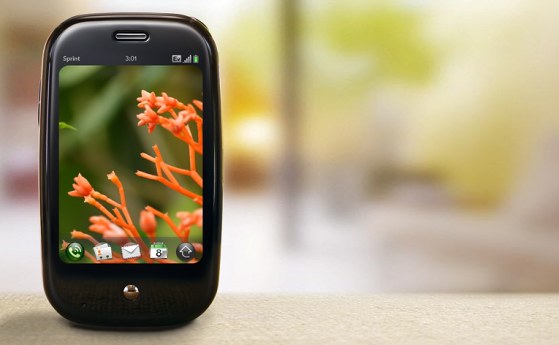 As promised, along with the new devices comes a new full touch OS. Called webOS, it has multi-touch support and boasts some really nice visuals. Some may say it's inspired by the iPhone Mac OS, but jusdjing from what we've seen online, the webOS takes things some steps further. The Palm webOS might actually be the first OS to best the iPhone in terms of usability.
Of course, currently there are no third-party apps for the new webOS, however Palm have promised to release SDK openly and publicly and developers will be able to pass their applications to the end user via a system similar to the excellent Apple AppStore (but presumably with less restrictions).
Here's a live demo of the new Palm webOS:
So everything about the Palm Pre and its spanking new webOS sounds really nice and it might even help Palm out of its current poor situation.
The Palm Pre is expected to hit the shelves by mid-2009, but we have to warn you though that it's currently an EVDO-only device sold exclusively through Sprint USA. Fortunately, there's also a GSM/UMTS version planned, which should spread across Europe and other countries later on.
c
this will be a perfect phone for me, for busines and personal use, grate phone...I am going to buy this phone as soosn as it appears in Romania... Regards, Cristian H.
S
Not GSM, not Windows to do paper works in Excel or Words and unable to sync information with other Windows OS machines, "Pre" would be my last phone to have. Just slide keyboard... what does it help when lacks of many other "universal" functions. ...
P
Because there is no GSM version available yet - it's only CDMA. I'm pretty sure as soon as a GSM version is announced they will add it to their database
ADVERTISEMENTS