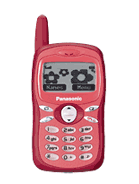 n
damn, u people are so vile! gay straight lesbian, it doesnt matter, dont bring up sexuality...it's just a freaking cellphone, u damn haters!!!
j
panasonic had been making phones for ages, u dumb ass. This phone is ment for gals, not guys. No one ask u to buy it unless u are the gay
?
Panasonic I think you better stick to your professional like making television than produce telephone for gay!
N
This is so adorable, I want one. I doubt any of the shitty cell providers in America carries it though.
?
I have a laptop and don't need my phone to do everything. I have a G51 and LOVE IT! I just make calls and use the planner to remind me to do stuff. I hate carrying bricks in my pocket.
v
there will be three styles of the a100, and it will be alittle smaller than the gd55 (but roughly around the same size).

to me, panasonic is going backwards in time and technology, personally i think the gd55-era is over, and panasonic should start smartening up.
A
Is it a lot smaller than the GD55 or are they the same size? What are the measurements of the A100 series? Does anybody out there know? Thanks.
n
I fell in love w/ my GD55. So I probably will buy this one when it comes out. NOt that much different, but just wanna try it out. Maybe it has new features and stuff!
Total of 354 user reviews and opinions for Panasonic A100 Series.
ADVERTISEMENTS